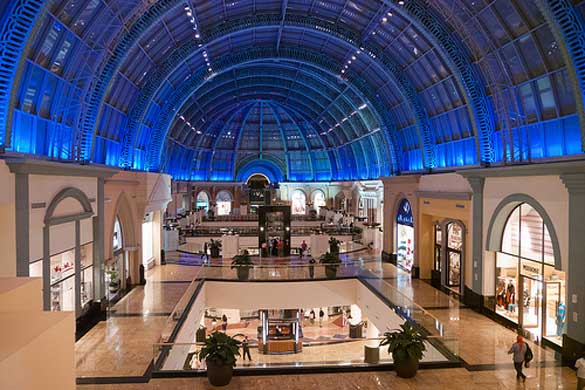 License: Creative Commons image source
Dubai is a city designed with fun in mind, and I found its shopping venues to be no exception. Malls in the area offer most of the same shops available in large western cities, but the settings and recreational facilities are beyond imagination. Even for reluctant shoppers, Dubai's malls are worth seeing as attractions in themselves.
Ibn Battuta Mall
Advertised as the largest "theme mall" in the world, Ibn Battuta does have something of the atmosphere of a theme park. The mall's China Area boasts the only IMAX facility in the Emirates and a tethered hot air balloon ride in the parking area. Each of Ibn Battuta's six courts is themed around an area visited by the explorer Ibn Battuta in the 14th century. The Persian Court's gorgeous hand painted dome is probably the most impressive, but we also liked the lion fountain in the Andalusia Court and even the elephant in the India Court. Located on Sheikh Zayed Road near Dubai Marina, the Hard Rock Cafe and the Emirates Golf Club, Ibn Battuta is not to be missed.
Mall of the Emirates
Also on Sheikh Zayed Road, the huge Mall of the Emirates is conveniently located near a number of hotels. Famous for its indoor ski slope, the mall is also home to Ductac, the Dubai Community Theatre & Arts Centre with its galleries, performance venues and workshops. We were also enchanted by the available food. Offerings range from McDonald's and the California Pizza Kitchen to Bombay Chowpatty and Fujiyama. We especially enjoyed Tribes, an African themed restaurant with a friendly staff and world-class steaks.
Dubai Mall
The crown jewel of mall shopping in Dubai is found a little further down Sheikh Zayed Road. Award-winning Dubai Mall is the largest such facility in the world, advertised as offering more than 1200 different retailers. Its ice rink hosts professional hockey featuring quite exciting Emirates League matches as well as public skating and instructional programs. The Aquarium exhibits more than 33,000 specimens from 85 species. When we walked through the 150 foot long tunnel sharks were cruising by over our heads. Dubai Mall is not to be missed, but because of its size visitors should wear comfortable shoes and set aside a lot of time to see everything.
Beyond the big three, Dubai's malls include the likes of Wafi, Jumeirah Plaza and Burjuman Centre. All have their own charm and ambiance. Shopping Dubai's malls is a holiday experience like no other.
Jason Kane is a travel addict and avid travel blogger. Jason gets his visas and passports from Travel Docs, an online travel document company.
You may also love reading "Top Three Tips for Driving in Cyprus"