A celebrated event and one of the most traditional things to do in Meath Ireland itself, the annual Trim Haymaking Festival is a family event that you don't want to miss out on. The locals, and no few visitors, will be out in force come June 2011 for this festival of fun as everyone gets involved in an attempt to outdo their neighbours and take the cup. The world record was set back in 2009 with an astonishing 62 foot throw, meaning that the heat is on this year.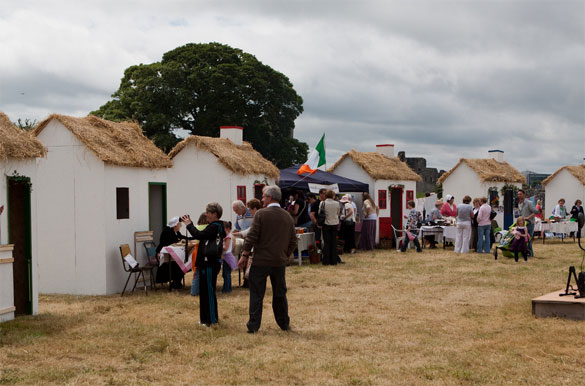 Photo Credit: Greg Carey
An absolute spectacle of well trained horses, old fashioned tractors and some very unique machinery will be on full display as everyone joins in to play in the hay. It's always a lively and exuberant time as local minstrels ply their trade providing traditional ceili music and accompanying dances. Several contests and shows are involved, including the Roll in the hay Competition, an Arts and Crafts display as well as dog and even goat shows! The Trim Canoe Club will be out there with a polo demonstration but the prize-winning Trim Drama Society won't be letting the jocks out do them without putting up a performance of their own.
The day includes exhibits of traditional skills such as bread and butter making, woodturning, sheep shearing and even wool spinning which generally means that attendees are laughing and singing their way through the day while still picking up an old school trick or two. The festival's committee is dedicated to keeping the old traditions alive in honour of Irish heritage and in memory of the simpler times of a bygone era. It's also a special occasion for other reasons, one of which is the fact that a huge percentage of the population of Ireland are involved in agriculture and farming and this event, rightfully, means a great deal to them.
Throughout the festivities a sense of Irish pride emanates and adds to the mood of joviality as the celebrants take a delightful and fun filled day to reminisce about old times, and the legacy of bravery and creativity to which they were born. Take a stroll along the River Boyne while coated in hay and singing along with an old Irish ditty because there are few better ways to truly experience the spirit of old Ireland, and the heart of it that still beats to this day. Bargain at the fair, voice your support for the blacksmith as he hammers burning hot steel into a new creation or perhaps team up with the matchmakers as they do their thing or enjoy some luxury hotel accommodation, but don't miss out on this enchanting Irish celebration.
Nathan Johnston: Some of the most beautiful hotel wedding venues are located in the county of Meath. Most of them even offer hen packages as well.