Hvar; Paradise of the Adriatic
Croatia has long been a well-guarded secret of those 'in the know' and slowly but surely the word is spreading. The Dalmatian coast is one of the most beautiful destinations in the world and it's less than two hours flight from London. There are many spots which stand out from the great citadel of Dubrovnik to the lively city of Rijeka but the crown jewel of Croatia for tourists simply has to be the little island of Hvar.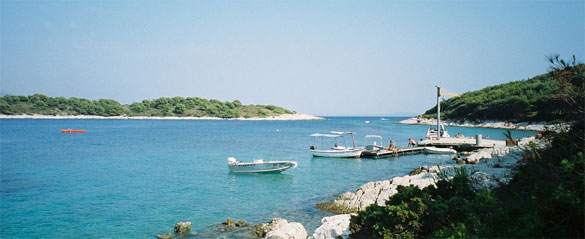 Photo Credit: florian davin
Hvar's Geography
Hvar is 42 miles long and just 6 miles wide but manages to describe a wide range of different landscapes – with rolling hills and mountains (although not called mountains by the locals – there is an old Yugoslavian saying 'if it doesn't have snow it's not a mountain'!) leading down to the most perfect of natural bays – Hvar is a site of pure glory come sunrise or sunset. The island is famous for sever things including seemingly never ending fields of lavender, olive groves and orchards. The climate is warm to hot during the summer months (around 30* Celsius) and mild right through the winter (around 11* Celsius on average) meaning that even out of season travellers won't freeze their butts off if they arrive later in the year.
All about Hvar
Hvar has a great reputation for both youngsters looking for a party holiday and for more mature holiday-goers that might prefer to sample a glass of famous Croatian red wine as they take in the relaxing sea views. The town of Hvar is a beautiful medieval citadel-like affair built from pale grey stone and marble with typical orange ceramic roofs that remind one of Hvar's times as part of the Venetian Empire. The main square is large compared to most Croatian islands and is the perfect place to wind down after a full day of serious relaxing.
There are loads of great things to see and do in Hvar as well – for example the Franciscan monastery and museum is a superb attraction for those interested in medieval history, as is the cathedral of St Stjepan. For those of you more interested in nature and sports there is a brilliant range of water-sports to take part in such as jet-skiing and wake-boarding or for something more chilled simply take a walk around the lavender fields for a truly original experience. If you're feeling really adventurous you could always hop over to the Pakleni Islands for some serious sunbathing – just don't be surprised if you see a lot of naked people, Pakleni's silver beaches are a hotspot for naturists/nudists!
Hvar is also famous for its great restaurants and bars. Local food is typically Adriatic with a Mediterranean flavour and a touch of Turkish influence, the local speciality is seafood (or sea-fruit as the residents say) which is always fresh and of the very highest standard. There are also some excellent coffee shops for your morning wake-up selection and some terrific cocktail bars for an evening tipple or some boogying on the dance floor if that's your thing (Hvar's clubs have quite a reputation for top-notch partying).
Final Thoughts on Hvar
Hvar really is one of the most beautiful places known to man – and don't just take our word for it, last year Hvar was voted the 5th Top Place to visit by Lonely Planet. From the warm Adriatic waters to the great food and the friendly locals, Hvar really is a holiday destination not to be missed – so what are you waiting for – get booking your Hvar holiday now!
I am a copywriter and poet with a bachelor's degree in English Language and Creative Writing. I have worked in various marketing & creative roles since 2001. My aim is to publish at least one novel before I die – so far I have had 2 poems published internationally in print as well as some online. In my professional capacity I currently work for an advertising agency in London.