Caribbean Wildlife
The Caribbean is an idyllic choice for a luxury holiday, guests can choose from a range of accommodation, including five star resorts and boutique hotels, all with the guarantee of warm weather, soft sands and crystal seas.
However there is another, lesser known, side to the Caribbean. Away from the luxurious resorts and opulent cuisine a world of fascinating wildlife roams the islands.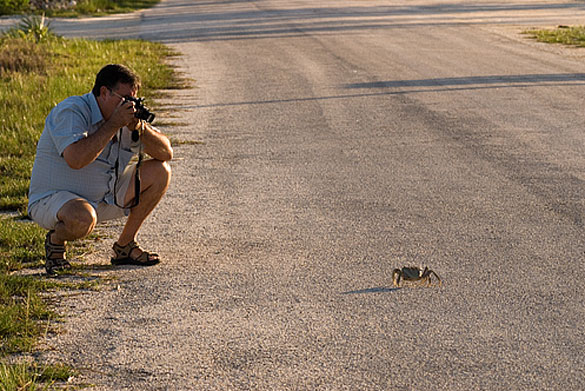 Photo Credit: Shane Pinder
For most visitors to this paradisiacal part of the world the closest they will get to Caribbean wildlife are the cats that roam around the streets. Some being the friendly and tame kind want nothing more than a head rub whilst others are a touch more aggressive so it's best to keep your hands (and food) to yourself. You're also likely to happen upon an Iguana or three. These laid back creatures are so used to tourists that they are quite happy to sun themselves by the pool or on a grassy bank as tourists snap away with cameras.
Nonetheless it's not just Cats and Iguanas that roam these pretty islands, indeed if you venture out into the oceans or jungles you'll likely come across a vast array of animals in their natural habitat.
Head out to sea and experience the awe-inspiring sight of the Caribbean Reef Shark. This stunning specimen can grow up to 10 feet long and, thankfully, doesn't associate humans with food!
Staying with the underwater world and the Caribbean is also the perfect place to spot Humpback Whales. These breath-taking behemoths bring their young to the warm Caribbean waters between January and March, thus providing an ideal chance for boat trips and diving expeditions to get a once in a lifetime look at one of the most acrobatic members of the whale family.
Head inland and take in some of the luscious forestation that adorns many Caribbean islands. Enjoy countless varieties of colourful Flora as you embark on a guided trek through the jungles and woodlands that make up the fragile yet beautiful ecosystem enjoyed on islands including Antigua.
Not to be outdone, land based wildlife is as beautiful as its shrub based counterparts. Watch as Pelicans roam the landscape, one of 5,000 different varieties of birds that are known to frequent the region. You're also likely to spot the Black Deer, introduced to the islands around the 18th century. These reside alongside the countless varieties of frogs and bats which offer a symphony like soundtrack to a summers evening.
About the Author
Matt Coe is head of marketing for 360 Hotels and Resorts who own Blue Waters, a stunning 5 star resort nestled on the North East coast of Antigua
You may also love reading "Top Hotel Safety Tips for Travelers"