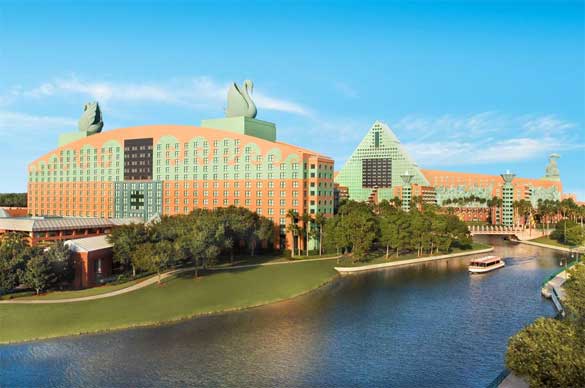 Photo Credit: Westin Hotels and Resorts
Flashback to a Memorable 1st Day in Disney
The month was July in the year 1995.  Our family vacation was a road trip to Walt Disney World for 4 nights and five days.  It was something we looked forward to and planned for months.  We studied travel brochures and talked to anyone and everyone who had ever been.  A recently married couple in our family had just returned from their honeymoon at WDW and talked about EPCOT so much, we couldn't wait to experience it ourselves.
DISNEY TRIVIA
On the way down I-95 from Virginia, we learned EPCOT is an acronym for Experimental Prototype Community of Tomorrow or City instead of community if using Walt's original version.  We learned the difference between fact and myth from books checked out of the library.  Keep in mind, 1995 was before we 'Googled' everything or got information from little blue bird apps.  We learned Magic Kingdom's castle is made of fiberglass and is not collapsible in bad weather.  We learned what we could of the mysterious underground workings of the utilidors which wasn't much.  Again, this was before everybody, including small children, had cell phones with cameras.
DIXIE LANDINGS
We pulled into the Dixie Landings Resort (now called Riverside) after 14 hours of road trip joy and were lodged in the section of southern mansion style rooms.  We were told at check in our blue room keys doubled as our tickets and if we didn't want to take cash with us, our room keys could be used anywhere in the resort or parks.  After briefly exploring our resort, we headed to EPCOT.
WHY EPCOT?
In 1995, virtual reality was becoming something tangible and not just fantasy sci-fi.  EPCOT had virtual reality headsets and games.  We took a bus to the ticket and transportation center and from there we rode the monorail to EPCOT.  Simply whirling around over the park was magical for us and we were jumpy with excitement.
MAGIC RUINED
It was fun and excitement until we actually got to EPCOT.  It was early evening but still hot and steamy from a recent rain shower.  Lines were long, people cranky and directions unclear.  We finally found the innoventions area housing the virtual reality games and headsets.  To our dismay, it was more an arcade requiring tokens.  We only had our blue room keys and a cast member was quick to tell us how sorry he was but we couldn't charge tokens on a room key.  Then he said it was closing in 5 minutes.  We left very disappointed but excited to see other things.  However, we found the whole future world side was closing, including the restaurants.  So we couldn't see virtual reality in action or find an open restaurant and after much useless walking, were severely disappointed with our first EPCOT experience.
MAGIC AGAIN
A kind cast member saw us and took pity on a dazed family trying to figure out the lay of the land.   We were guided to guest services where we were given a coupon for loads of tokens and a magic piece of paper that would get us on one attraction with no wait.  It was such a kind thing to do especially when we hadn't complained.  We just looked ridiculously lost and confused.  We returned the next day with full knowledge of the odd opening and closing hours for the two park sections and had the best day starting with Spaceship Earth, ending with the laser light show Illuminations.  That day was magical to us but not simply for the attractions.  The kindness of the cast member taking pity on us followed by many more positive experiences, had us coming back so often, we can easily be classified as Disney geeks and proud of it.
Carla C. Burton is a self-employed Travel and Hospitality writer with a BBA in Business Administration from Bond University.  Although a Gold Coast native, Carla moved to Melbourne in 2008 to further her writing career in the Travel industry.  Carla has become a top contributor to many Orlando hotel blogs and other worldwide blogs she thoroughly enjoys the freedom that self-employment has provided her.  To find out more about Carla or to follow her other posts, follow her on Twitter @CarlaCBurton.