Bali is like no other destination in the world. It is an island located in Indonesia is among the topmost tourist destinations in the world which is renowned for its scenic splendors, sacred caves, exotic wildlife, ravishing rivers, deep ravines, most magnificent temples and above all rich cultural heritage which is clearly visible in its colorful festivals, ceremonies dances and music. The beauty of Bali is very difficult to describe in words unless visited which surely compel its visitors to come back here again and again such is its pull. The mere mention of Bali evokes the thoughts of paradise, uplift the mood and inspire the soul. Why wait when there is a splendid beauty is so near to you. Make a plan and fly to Indonesia which is eagerly waiting for you.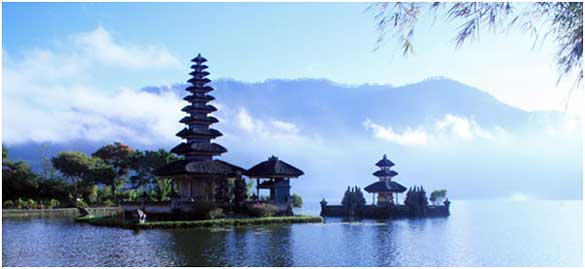 Image is Purchase from shutterstock
The people:- Bali has beaches, surfing, diving, and resorts both great and small but it is the spirit of Baliness which makes it an iconic destination to enjoy your holidays. The inhabitants of this small island are indeed a generous and genuinely warm people. The people of Bali have strong spiritual roots and despite the large influx of tourist the culture of Bali is still very much alive and attracts visitors from every corner of the world.
Beautiful Resorts:- Among the main tourist attractions of Bali, Kuta is the main tourist area situated near the airport. This small village is now a major tourist attraction because of its famed sandy beaches and stunning sunsets. Today it is a major hustling and bustling resort town which is festooned with hundreds of hotels, cafes, bars, restaurants and shops. Those who are looking for peace can head for more sedate resorts of Sanur and Candi Dasa on the east coast, Ubud in the center and Lovina in the north. Ubud is the heart of Bali, is a place where the spirit and culture of the island are most accessible. It shares the island's most beautiful rice fields and ancient monuments. Nusa Dua which is another major resort on the southern-most peninsula of the island is for up-market crowd and is a home to almost all of the major 5 star luxurious hotels and resorts as well as Bali's golf courses.
Amazing culture:- Besides the natural abundance the other things that amaze visitors is its unique culture. Bali is predominantly Hindu, albeit with animist influences which makes it quite different from Hinduism in India. The people of island follow some peculiar rituals and they have ceremonies for just about every stage in a person's life including an extremely elaborate cremation ceremony which is usually the biggest and most spectacular event of all.
Delectable Food:- Bali has a great culinary history which is significantly influenced by outside. It is no less than a paradise for food lovers and you can easily find her Malaysian, Chinese, South Indian and Thai flavors which is mixed with more traditional Indonesian food Because of the growing influences of tourism over the last several decades one can also enjoy the delectable delicacies from Moroccan, Thai, Italian, Chinese, French and Japanese cuisines. So no further excuses just catch low price flights to Bali and enjoy the most spirited journey of your life.
Shopping:- A holiday in Bali is incomplete without shopping. The crafts, furniture, clothing and touristy knick knacks are quite unique and distinct in Bali and more over incredible affordable. So make sure to indulge in shopping spree and enjoy some great deals while buying stuff for your near and dear ones.