Khangkhui Cave is a natural limestone cave locally called as Khangkhui Mangsor Cave located in Ukhrul district of Manipur State. Archaeologists have discovered many important artefacts, dating back to the Palaeolithic culture from this cave. The cave is about 15 km away on eastern side from Ukhrul town.
The big hall in the cave is the darbar hall of the Devil King living deep inside while the northern hall is the royal bedroom, according to local folklore. During World War II, villagers sought shelter here. This cave is an hour's trek from Khangkui village.
Located in the district of Ukhrul, the village of Khangkhui is home to the Tangkhul Naga tribe. The place is surrounded by the Shirui hills which is yet another major tourist draw in the state of Manipur.
The hamlet of Khangkhui is well known for its limestone caves. The cave system here is one that dates back to the Paleolithic period and is one of the oldest of its kind to be found in the country. The cave here showcases large sedimentary limestone formations with some of them hanging from the ceiling and some growing from the ground which offers a very surreal experience.
It comprises two large chambers and five tunnels; finding your way through the darkness of the caves is definitely an enriching experience. The limestone sedimentations here have led to the formation of different patterns which create a mystical experience that grabs everyone's attention and curiosity.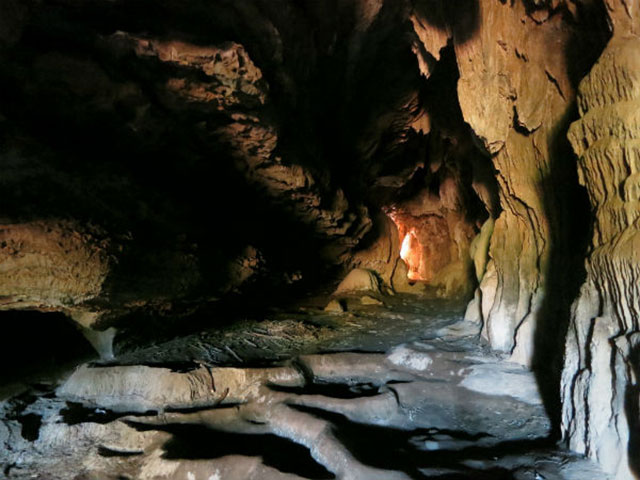 According to a legend, a king named Mangsorwung built a chamber as a symbol of love to his queen inside the cave and is still considered as the first wife's chamber. Another chamber goes by the second wife's name and others were named after his sons. The major attraction at the caves is a huge hall right at the heart of the cave which is known as the Durbar of the king; it is followed by darkness is the bedroom of the king and his two queens. The sights do not end here. Next, one would come across a pit which is known as shirata which has a diameter of 5 m and a depth of 30 m, shirata in translation means "falling star hole".
According to a folklore, there happens to be a tunnel at the depths of shirata which runs to the Thoubal river in one end and Loktak at the other. Although, there are no evidences found about this tunnel, which extends itself to 150 odd km. One of the last Manipuri kings, Budhachandra, is said to have visited the cave in the year 1942 and erected a memorial stone at the entrance of the cave which has not survived. The caves also served as a shelter to the locals during the Second World War.