License: Creative Commons image source
Are you sitting around at home right now trying to figure out what you and your family could possibly do together? This is a problem many parents face. They want to do things together, but it could be tough to find things that match the interests of everyone involved.  In addition, a trip to Disney might be fantastic, for example, but how many families can afford the exorbitant prices necessary to see "The Greatest Place on Earth"?
Luckily, in the state of Delaware, families have a wide number of options available that can appeal to everyone involved. One of the many benefits of living in Delaware besides tax-free shopping is Delaware's location. Being near world-class cities like Philadelphia and Washington D.C., as well as the East Coast shoreline, gives families no shortage of things to do. If you're sitting at your home and struggling with ideas of what to do over the next couple of months, here are some great ideas that are sure to be fun for the entire family.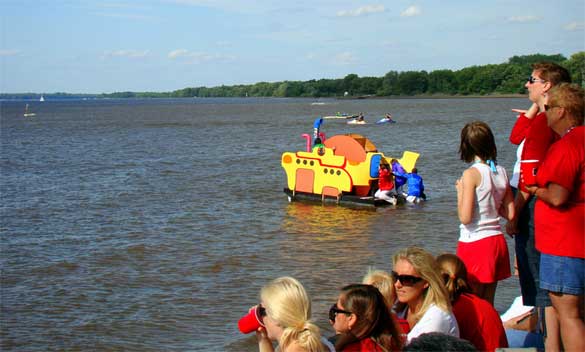 Photo Credit: la fattina
Learn about water: Okay, it's probably true that most of us take water for granted, but our relationship with the compound – it's something that we need to survive, but many of us don't have a clue about how it comes about and where it comes from.  The Delaware Museum of Natural History aims to change this through its Water's Extreme Journey exhibit .The exhibit runs from now through September 2nd, and it serves as a way to bring awareness about how human activity affects the amount of clean water we have. The interactive journey transforms participants into raindrops and takes them on a journey they'll never forget.
Have some fun in the water:  Once you see how important water is to the world, why not have some fun in the water in the form of the Dover beaches? Delaware is home to many of the best beaches on the East Coast, and you would be hard-pressed to find a more fun time than that of Rehoboth Beach. With its one mile boardwalk, beautiful beaches and many shops and arcades, Rehoboth Beach offers things to do for the entire family. And parents should make it a point to have a beer or spirit at the Dogfish Head brewpub, which is located right at the town's main stretch. And if you want to make it an even more adventurous trip, take the car on the Cape May-Lewes ferry and spend some time in beautiful Cape May.
Get a scare at Night of Terror: Once the days get a little cooler and shorter, it's time to prepare for Halloween. One of the most fun parts of Halloween is going to a haunted house and experiencing terrifying thrills and chills. Bonus points if there is a haunted hayride as well. If you're looking at haunted houses in the DE area, there are plenty to choose from. They usually start popping up in late September and the first week of October.
With these and many other attractions, there's no reason to be on the couch right now, so gather the kids and get moving! There's a world out there to see.
Mike is a travel advisor in the state of Delaware and has been giving travel advice to those who want to visit Delaware for the first time or want to try out some new places in the state.