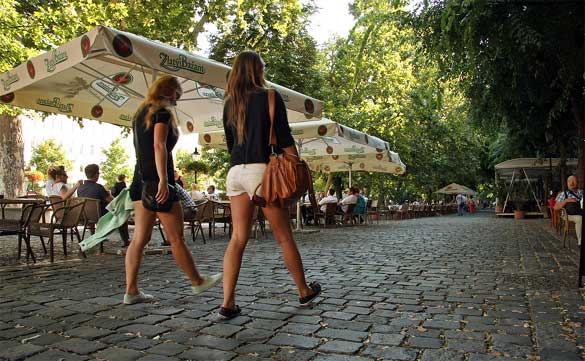 Photo by Matteo Dudek
You've decided you want to travel the world (or at least one part of it) – but you're short on cash. You can let this stop you from exploring different cultures and countries, or you can see it as nothing more than a hurdle to your adventure. The latter is advisable, because you'll never be sorry that you travelled.
So what's a cash-strapped world traveller to do? One option would be to stay in hostels in order to save on accommodation costs. They sometimes suffer a bad rep, but not all hostels have been created equal. There are some great ones all around the world.
How do I tell a good hostel from a bad one?
The best way to decide whether a hostel is desirable is to speak to other travellers from around the world and read as many forums as possible.  A good place to start would be Lonely Planet's Thorn Tree Forum. They have a special Travel on a Shoestring forum where you are bound to find someone that'll be able to dispense helpful advice.
What can I expect from hostel living?
No two hostels are the same, but across the board, they will all offer a combination of the following:
Sleeping: You will find a combination of dorm rooms (your cheapest option), double rooms, twin rooms and en suite double rooms. Single rooms are less common, but available at some hostels. Beds are typically bunk beds.  Be prepared – if you're on the lower bunk, your bed will be used as sitting space and your bunk mate will wake you up in the middle of the night when they make their way to their bed. The top bunk might not be a better choice – not if you don't want to be the one who has to constantly climb up and down.
Eating: Generally, there will be a communal kitchen for everyone to share. If you're lucky, and have a few extra cents to spend, ask if breakfast or another meal is perhaps on offer or included in room prices. Salmon croissants and continental espresso might not be on the menu, but at least one meal will be covered, helping you come into budget on your trip.
 Security: Hostels all have some form of security in the form of a safe place to put your belongings. Some will have lockers in the bedroom, and they'll be free, while others will have lockers for rent. It'll be well worth the money – rather be safe than sorry.
Conveniences: Facilities to make your life easier during your trip might be sparse at some hostels, but others will be able offer anything from an in-house laundromat to internet facilities. That which is on offer, will depend on how specialised the hostel is that you chose.
Of course hostels are also known for the social factor. You'll meet people from all over the world, each with their own fascinating story. There will be a new face and name to remember every day. Some will disappear out of your life the minute they move on to their next destination, but others will turn into friends for life. And this, dear would-be tourist, plays a big part in the magic that is travelling.
Terrence is a long-time writer and reader, and a keen traveller. He's seen many parts of the world, from both hostels and hotels. He hopes to see many more during his lifetime.