There are many reasons that you may want to put your belongings in long term storage, including during a major move, if you don't have the room in your current living arrangement, or if you're planning a long trip or a stay abroad. Whatever the reason, it's important that you prepare your belongings properly for storage, so that they are in just as good condition when you come back to them.
Image by bark and licensed through Creative Commons.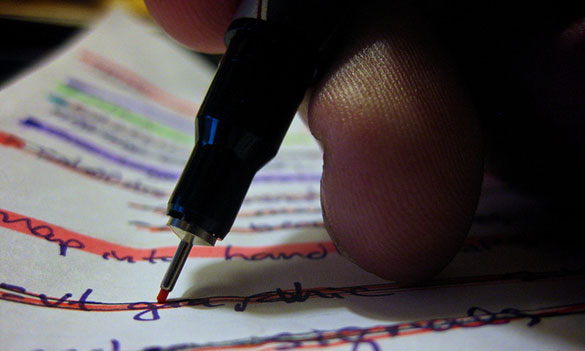 License: Creative Commons image source
Cleaning Your Items
When storing your belongings for a long time, you want them as clean as possible, to avoid the buildup of mold, mildew, and too much dust. This is especially important for leather items, which should be cleaned with leather conditioner first, and with books, which can easily get damp and mildewy. Be sure that all your books are completely dry before you pack them.
Large Items
Large items such as furniture may need to be disassembled before you can securely put them in long term storage. Dismantle as much as possible to save space, and put all the items that go together in one single box. Keep the associated bedding, cushions, and other cloth items in sealed bags. When you do go to put your furniture in the storage area, be aware of your space; furniture can be placed vertically to take advantage of the height of the storage area, and some items, like chairs, can also be stacked on top of each other.
Breakable Items
Wrap breakables such as dishes or ornaments in bubble wrap or other clean cloths, and pack them in secure, strong boxes that can handle the weight. Pack them in snugly enough that they won't shift around during transportation, but not so tight that the pressure might break them. Use packing materials to take up any extra space and to provide a cushion during the moving process.
Containers
Pack as many items as possible away in boxes or other containers, to avoid getting them covered in dust and other debris. Your containers should be sturdy enough to take being moved and also being stacked in with other containers, and should be as tightly sealed as possible to prevent the damp getting in. Be aware of how much weight is in each container; not only will it affect your belongings, but heavy containers will make it harder for you and your helpers to move them around.
Temperature and Weather
Depending on where you live, you may have to take temperature into account when placing your belongings in long term storage. Check to see if the place where you are planning to store your items is temperature controlled, especially if you live in an especially cold or especially hot climate. If you live somewhere that's often wet, be sure that the storage area is unlikely to be flooded, and that your belongings are up on wooden flats or otherwise off the bare floor just in case.
Electronics
If you still have the original packaging for your electronics like your computer and TV, then it's best to use those to pack them again. Make sure that any files you may have are backed up and in a safe location elsewhere. If you have something that is powered by batteries, be sure to remove the batteries first.
Preparing your belongings for long term storage may seem like a huge task, but with careful planning and knowledge of how best to protect your belongings, you will find that it isn't so hard after all. With these simple tips you will be able to pack your belongings safely away and look forward to your trip or move with an easy mind.
Paul Benjamin is a District Manager at EZ Storage, a self storage company focusing on providing excellent customer service, peace-of-mind, and convenience to their customers for over 40 years.