Top Hotels for Diving in the Maldives
The Maldives is known for its wonderful and exciting dive sites, with a host of exotic and tropical sealife waiting to be discovered. You can rent diving equipment from most resorts and hotels, who also claim to offer top-notch diving facilities. With so many different hotels and resorts to choose from though, finding the right one for you can become a laborious task. That's why we've compiled a list of hotels which offer the best diving facilities!
Angaga Island Resort and Spa
Located on the intimate coral island of Ari Atoll, Angaga Island Resort and Spa boasts top notch diving facilities, and is close to many world famous dive sites too. The resort's dive centre has multilingual instructors and several courses catering to all levels of divers, from experts to beginners. You can dive in some of the world's most excellent dive sites, including Kuda Rah Tila and Broken Rock. Angaga offers pure luxury in the form of its large rooms and indulgent Balinese spa, and is the perfect choice for those of you looking to mix adventure with relaxation on your holiday.

License: Creative Commons image source
Cocoa Island Resort
If you're looking for a peaceful retreat, you've found the right place. The private Cocoa Island Resort is the epitome of luxury, with its spacious water bungalows and clear view of the beautiful horizon. There is ample opportunity to dive here, with the island surrounded by rich coral, and the team of helpful PADI instructors will be more than happy to teach you the basics if you're new to diving. The Cocoa Island Resort is ideal for couples in search of a romantic getaway; you'll be able to explore the enchanting underwater paradise together!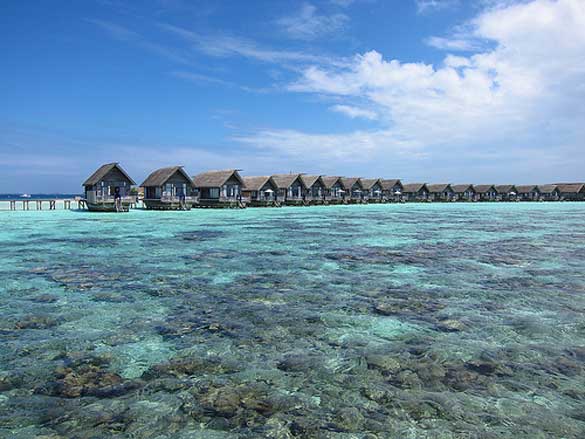 License: Creative Commons image source
Anatara Dhigu Resort & Spa
Not only are there excellent diving facilities at the Anatara Dhigu Resort & Spa, but you'll be able to engage in a range of other Watersports too, such as kayaking and snorkelling. The resort has a 5 star PADI Dive Centre, and offers exciting diving safaris too. If you're in need of some pampering after your diving course then the indulgent spa is perfect to unwind in, not to mention the resort's restaurant which serves mouth-watering seafood.
W Retreat and Spa
The W Retreat and Spa is 5 star accommodation at its finest. As you wake up every morning in your king size bed, you'll be able to look out at the beautiful ocean and feel completely relaxed. The resort boasts an extensive range of Watersports activities, including diving, wake boarding and kite surfing – perfect if you're feeling particularly adventurous!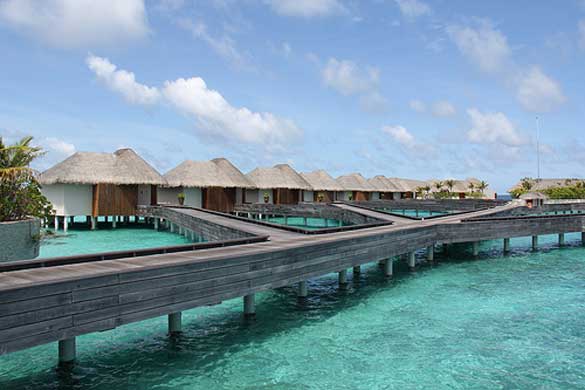 License: Creative Commons image source
Constance Haleveli Resort
The Constance Haleveli Resort oozes equal measure of luxury and tranquillity. You'll feel as though time has stopped when you arrive, and never want to leave. The resort includes a TGI International Diving Centre, catering for every level of diver. So whether you're an expert or beginner, you'll be able to dive in – quite literally! After a day of exploring the stunning coral reefs, you can book into the spa and enjoy a relaxing massage. Bliss!
To book your diving holiday to the Maldives speak to Wanderforth.