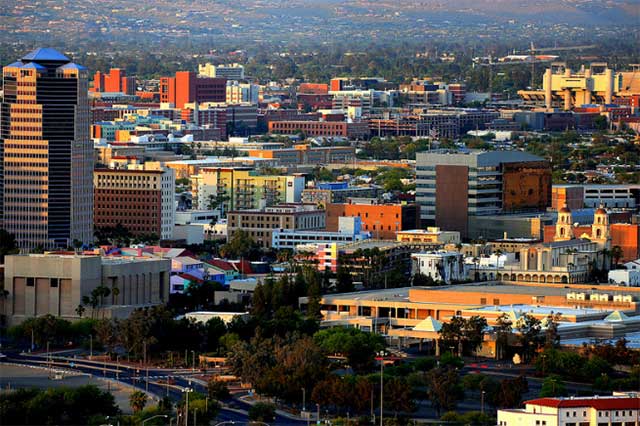 Tucson City – Photo Credit: Bill Morrow
Tucson is a fascinating draw for tourists. Maybe that's because of the countless mentions of Tucson in film and song, or maybe it's the authentic feel of old western culture. It could even have something to do with the 350 days of sunshine and breathtaking beauty of the surrounding Sonoran desert.
When you think of Tucson, it's hard not to conjure images of the old west. This legendary southwestern city is famous for Mexican, Spanish and Native American influences, but the location of Tucson is an equally famous draw for visitors. Eager tourists drive through the dry foothills of the desert and see the spectacular giant saguaro, a cactus that's become symbolic of how tourists imagine a western desert. You could almost imagine cowboys driving cattle through a pass as you gaze across the landscape. It's a scene that changes to multi-hued shades of orange and burning reds as the sun sets. Sunsets in Tucson are a thing of legend.
What is there to do in modern day Tucson? Even if horseback riding and hiking among an epic land of mountain and cactus isn't for you, there's loads of things to do. Plan a trip, slow down your pace to a relaxed Arizona speed, and head for Tucson, because there's plenty happening in this vibrant city.
Tucson City
The bustling city offers a rich culture which visitors will be keen to explore. The past is still embraced here, so take a tour of the old downtown area and see the El Presidio historic district. Visit the Presidio fort, built in 1776 by the Spanish, or stroll past an eclectic mix of brightly colored Mexican adobe buildings. You'll be able to taste the history here.
The second largest city in Arizona, Tucson has grown into the future, with a respected university and the popular Tucson convention center. Many touring opera groups, Broadway shows and symphony orchestras perform here, entertaining visitors and locals alike.
Around Tucson
The city is situated in an imposing land of cacti and desert. Hikers head for Saguaro National Park to see giant cacti, the saguaro sometimes reaching heights of 50 feet, and to feel the rapture of walking in the natural wonder of the desert.
When the dry sun has scorched your back and you've hiked through enough canyons and foothills, take a side trip to the nearby Colossal Cave Mountain Park. This fascinating underground space is full of interesting crystal formations. Tours of the cave begin every 30 minutes.
Tucson Activities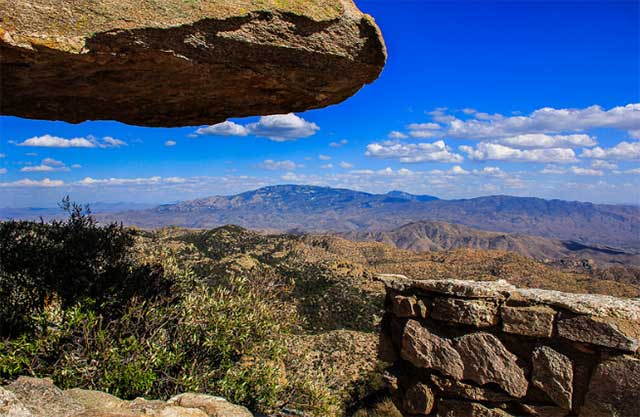 Photo Credit Buck Fever
Just as you'd expect, there are plenty of ranches and rodeos to experience. Pusch Ridge Stables offers two hour rides along the beautiful Santa Catalina mountains, and there's plenty of opportunity to stop and experience an authentic cowboy meal.
If riding horseback is best left to active visitors, don't worry. How about playing a round of golf on one of the many championship level golf courses. Take your clubs and enjoy pitching a ball on to a lush green, surrounded by the magnificent desert mountains.
Erin Stokes is a guest blogger. She has had the pleasure of contacting Tucson based Delivery Doctors moving company for moving requirements.