Travelers often have to make the difficult decision of choosing between whether to "adventure travel" to a new location — as in, avoiding guided tours and getting up-close and personal with the sights to see — or to take a guided tour, which is often more informative and less down-and-dirty. However, some tour guides know that most travelers want the best of both worlds, and this is absolutely true of those who can guide you through the Blue Mountains. The Blue Mountains and Jenolan Caves epitomize adventure, and if you've never gone caving before, visiting them absolutely needs to be on your bucket list. If you're not convinced, here are five reasons you need to see them.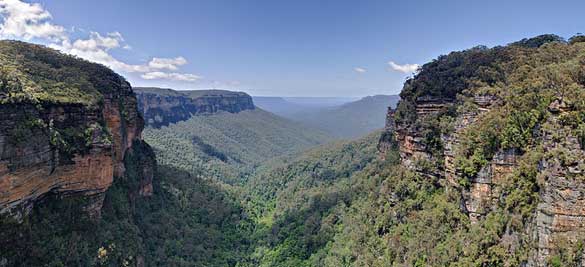 License: Creative Commons image source
The Blue Mountains are a World Heritage Area
There are 962 locations around the world that have been deemed World Heritage Areas, and in the year 2000, the Blue Mountains made this list. Only locations that demonstrate outstanding universal value, whether it be cultural, natural, or both, can make this prestigious list. According to the United Nations Educational, Scientific, and Cultural organization, "Australia's eucalypt vegetation is worthy of recognition as of outstanding universal value, because of its adaptability and evolution in post-Gondwana isolation… the site hosts several evolutionary relic species which have persisted in highly restricted microsites."
The Old Caves
At an estimated 340 million years old, the Jenolan caves are thought to be the oldest known caves on the globe and the best for exploring since they were once inhabited by the Aborigines in the Gudungarra. There are ten distinct caves included in the set, and each has its own unique properties, making them all worth seeing.
Much to Do
Anyone who has been on one of the Blue Mountains day tours will vouch for the fact that they should be week-long tours. There are far more activities, both indoor and outdoor, than one day or even one weekend can handle. From the multitudes of museums to the Guinness Book recognized steepest railway, there's so much to learn from visiting the site. There are also underground concerts in the Cathedral Cave of Jenolan, which is known for its amazing acoustics, as well as lush eucalyptus forests, waterfalls, stone staircases, and more. Every experience in the Blue Mountains will be a life-changing one, and there are dozens and dozens of experiences to have.
Much to See
The caves make use of modern technology when it comes to lighting and walkways, so while the scenery will make you feel as though you're adventure traveling, the ease at which you can go caving provides the comfort of a guided tour.
The History
The Jenolan Caves and the Blue Mountains have more cultural background and history than one can fathom. There's lots of remaining Victorian Era architecture that gives insight into early European civilization and development. The site still hosts ghost tours to tell haunted stories that have stood the test of time. Most importantly, simply knowing that you're standing inside structures that are hundreds of millions of years old is an experience that cannot be compared to anything else.
Mike is a trip advisor who knows all of the best places to visit year round.