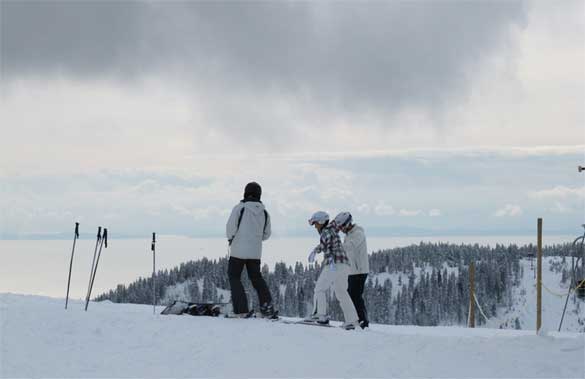 Photo Credit: wona_kellie
Snowboarding and skiing are two of the most popular sports out there and great hobbies to take up. But there aren't enough hours in the day already! If you're thinking that your two week holiday is the only free time you have, why not combine your new hobby with your old vacation? This summer, why not try a different kind of holiday? Activity holidays are not just for the incessantly sporty; the majestic, glistening beauty of the slopes when lit by the sun is unrivalled, and relaxing in a picturesque log cabin sipping on a hot toddy seems like something from a Christmas card. But resorts are available all year round, so sun seekers can become snow seekers and stay immersed in the lifestyle throughout the summer and winter months.
The most popular locations
There are so many winter sports resorts all over the world, on every continent and they cater to all abilities. Europe is the most popular continent for winter sports and countries such as France and Belgium remain luxurious choices. If you wanted to go further afield, the USA and Canada are home to some of the most spectacular scenery for snowboarding. One of the most consistently popular destinations in Canada is called Whistler which attracts thousands of visitors every year both young and old.
Taking lessons
There is something for everyone too. If you are a complete beginner there are plenty of places to start. With such a wide array of schools and instructors you are bound to meet someone who fits your abilities and also who makes you feel comfortable on the slopes. A lot of people are reluctant to start snowboarding as it is still considered an extreme sport, but newcomers should not be disheartened. A few one on one lessons will give you the basics so you can enjoy the safer, slower slopes and still finish the day feeling like you've achieved something. And if you are a hardened winter sports enthusiast there are even more opportunities.
Do your research
A good place to start learning about snowboarding is online. Try joining some forums or chat groups to meet like-minded people and possibly even get a group together for a trip. You can pick up tips and tricks of the trade and learn the lingo so you can be ready to really immerse yourself in the lifestyle. The options for snowboards and winter sports clothing online is immense too; there is something for everyone so you can team your personality and style with your gear – adding to your on-slope confidence.
The benefits
So many people are opting out of the run of the mill beach holiday in favour of something a little bit more challenging. The thrill of snowboarding cannot be beaten and with so many places and people to meet through the sport, you will create some amazing memories. Its not just great exercise either, snowboarding offers all the things that come along with it; roaring log fires, hot chocolates and incredible scenery. The awe-inspiring views and luxurious atmosphere can be very romantic so it's a popular choice of holiday for couples; however families can find it equally useful with the hundreds of kids' clubs and instructors for all ages. The party lifestyle surrounding ski resorts also makes it great for birthday, stag and hen parties, offering something different and more exciting for those about to tie the knot.
Give it a go!
With so much to offer, it seems as though there is no end to the snowball effect winter sports holidays are having for hundreds of countries and thousands of people offering a great way to push yourself and challenge your body but also get warmed by the fire and lost in the scenery. The whole lifestyle surrounding sports like snowboarding and skiing has been popular for decades and its showing no signs of slowing down. It might be wise to get a new perspective on the snow, not dreading it but seeing it as something to be searched out and enjoyed.
Lucy has just returned from a snowboarding holiday in Whistler, Canada where she fell in love with the sport and everything associated with it – including the fashion! Get your snowboarding clothing and other snowboard equipment online from Snowboards4U.