The advent of the budget airline has made travellers ever more conscious of the need to travel light and restrict themselves to packing only the bare essentials. Gone are the days of shoving everything bar the kitchen sink into a huge suitcase for a long weekend break in Paris or a week's holiday on the Costa Brava. Instead, travellers are now restricting themselves to only taking what they can squeeze in their cabin sized wheelie bags. But sticking to carry-on only luggage can be advantageous even if you have a check in bag allowance, as this allows you to race through the airport on arrival and means that you avoid being laden down with heavy luggage when moving onto your final destination.
Whether you're on a weekend business break or a six month backpacking trip it should be possible to fit everything you need easily into a carry-on bag. The idea of lasting two weeks, or even two months with only 10kg of gear may sound impossible but by following these few easy guidelines you may surprise yourself, no matter what the nature of your journey is.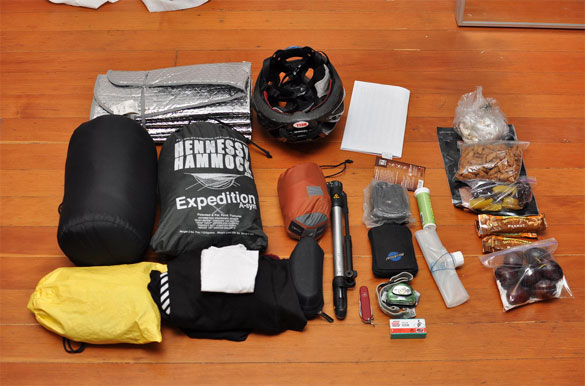 Photo Credit: joeball
The Gringo trail
If you're heading off on a six month backpacking trip, you may well have the prospect of passing through multiple climate zones and conditions. But even if you're heading out to South America and have to prepare for both long treks through Patagonia and beach time in Venezuela, it is still something that can be done with a small bag. The trick here is to think about the importance of layering and multi-use items. Keep in mind that a lightweight t-shirt which is perfect for the heat of Rio can also serve as a warm base layer at 5000m in the Peruvian Andes. Specialist travel clothing is perfect for preparing yourself for multiple climates and the warmth to weight ratio of hi-tech travel clothing is also perfect. You must remember that in warmer climes, you can buy a pair of throw away shorts and a t-shirt for next to nothing and ditch them as you go; clothing hardly ever survives the beach in any case.
Business Trips
Packing light is probably most challenging for the business traveller due to the pressures of looking well-presented at all times. The key here is to accessorise well to add versatility to your business wear. Generally, men should be ok with a single neutral coloured suite and a selection of ties and shirts. To save room in your baggage, wear your jacket or blazer on the plane. For women, a pair of black suite pants is a must, paired with a buttoned shirt and jacket for the day and a blouse or wrap for the evenings. The key here is to not be tempted to pack in outfits, but instead to think about versatility; this is especially true of shoes as you should pack one pair for leisure which should be worn on the plane and one pair of dress shoes – this should be your limit.
Leisure trips
Similar rules apply to city breaks or leisure trips as those already outlined above and clothing should be chosen on its versatility. Bring clothing that can be easily dressed up or down. A clean top for the evening paired with a smart skirt can be re-worn the next day for exploring the city. One extra tip is that travel-size products which are designed to keep clothes fresh are worth packing. Remember that most things can be bought easily abroad so it isn't necessary to pack two gallons of sun cream and enough batteries to see you through the entire trip.
There are also some general packing tips that will help you when preparing for any kind of trip:
Only pack for a week
No matter if you are travelling for one week or six months, you should always aim to take no more than a week's clothing and plan to wash as you go. You can almost always ask your hotel to do your washing, or failing that no matter where you find yourself you will almost certainly not be too far away from a launderette, so take advantage to further mix with the locals and get a little bit of extra culture.
Choose clothes to fit your bag, not a bag to fit your clothes
Always select your luggage first and then limit yourself to that. You will always end up cramming as much as possible no matter if you have a 60 litre back pack or a 15 litre day pack. Your best bet is to buy a specially sized carry on pack and work with that. Hard shelled luggage, such as a Cosmolite bag may weigh a little more, but it cannot be pushed out of shape by over cramming. Even if you're heading out on a backpacking trip, don't be intimidated by individuals sneering at your trolley bag; cramming your gear into a backpack will cause it become too fat and therefore it may not comply with the ever stricter carry-on regulations. It is also a constant nightmare endlessly searching for a new pair of socks at the bottom of a top-loading pack. At the end of the day you will generally find yourself only carrying your bags between your mode of transport and the hotel so a backpack is not strictly necessary. However, if a trolley bag will be a little too cumbersome, there are several backpacks, such as that made by CabinMax that are designed to comply perfectly with airline carryon restrictions.
Frankie Hughes is a blogger who suggests that if you love travelling, but hate packing, then you might benefit from a Cosmolite bag. This invaluable piece of equipment means that you do not breach the strict carry-on regulations by over packing your bag with unnecessary items.