If you are soon to be setting off on a vacation, then your thoughts may already be turning to the subject of packing. Although plenty of people seem to leave such considerations to the very last minute, there is undoubtedly value to be found in taking a structured approach.
You may feel confident that you will remember everything that you need to take with you, but there's often a worrying sense that important items have been forgotten. In order to avoid encountering any such issues, it makes sense to create a list of your most critical possessions.
My own view has always been that, in the case of most destinations, it's usually possible to buy a wide variety of items once you arrive at your intended destination. That doesn't mean, of course, that you should plan to do so. But it does mean that you may wish to concentrate your efforts on items that aren't so easily replaced, or that are critical to the actual journey.
Packing the essentials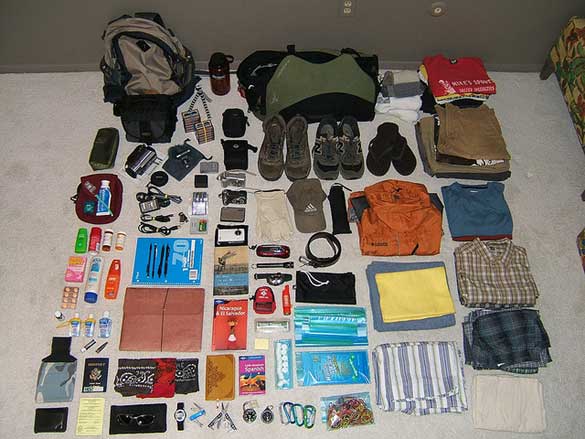 Photo Credit: Justin Klubnik
A great place to start is with your passport. If you are travelling with other family members, then you'll want to ensure that you all have your passports present. Make sure that you place them somewhere that's accessible, so that you can get hold of them quickly. If you're planning on flying, then passports certainly need to be included within your hand luggage, rather than packed in a suitcase.
The same applies, fairly obviously, to your airline tickets. These days, different operators take a range of approaches and some don't even require a printed, paper ticket. It's always wise to check before setting off for the airport. If a paper ticket isn't required, then do make sure that you can access electronic confirmation of your booking. In fact, it's never a bad idea to print a copy of your receipt.
If you'll be hiring a car, or you've received a ticket on exiting the airport car park, then it's clearly critical that you should have that information available to you. Once again, think about ensuring that it's all accessible. In the case of your car parking voucher, there's a possibility that you won't need it again for some days. That makes it all the more important that you should place it somewhere safe and somewhere that you will easily remember.
Theft and loss
These days, many people choose to take mobile phones abroad. It is worth considering, however, what would happen if you were without your phone for some reason. Consider the consequences of it being stolen, for example. In such situations, you will be thankful for having a printed list of useful telephone numbers.
My own suggestion would be that you keep a record of numbers relating to some friends and family. You may also want to include details of your bank, in case your credit cards are stolen too.
Thinking about running into such problems causes me to think about travel insurance. That's clearly something that you'll require and you should have multiple printouts of the appropriate details. Store some within your hand luggage and some in a suitcase, just in case you lose sight of some bags along the way.
Once you have packed the critical items, it's time to think about the additional extras. Clothing and toiletries will be required and you'll need to think about the differing weather conditions that you'll face. Don't forget to include clothes that are suited to cooler evenings and upmarket restaurants too.
It may be the case that some clothes, when used as layers, are suitable for both casual wear and more formal situations. That's a good way of saving space within your case.
You can benefit from a structured approach to packing, ensuring that you will have all of the items that you need.
Keith Barrett writes about campervan hire and other travel opportunities. He believes that it's important to be organised and to take a methodical approach to planning a trip.
You may also love reading "Must-Haves For The Long Commute"