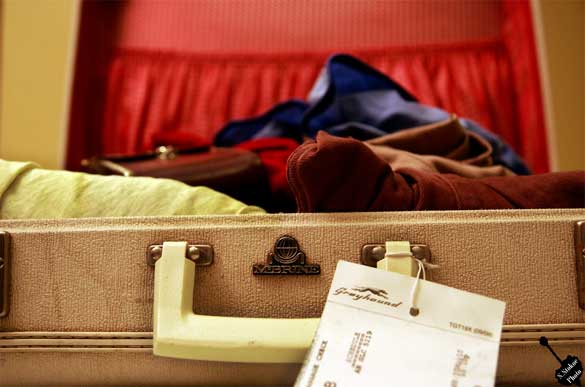 Photo Credit: Sydsquid
Kids like to take charge, fact. They also don't travel lightly, especially if they are young, so when it comes to packing a holiday suitcase, why not let them have their own? Your youngsters will love to wheel their own suitcase through the airport as they emulate you and your partner. However, for a child to take an interest in helping out, you'll also need to make the chore as fun as possible for them. That means choosing a child friendly suitcase, rather than a simple, plain, boring old black one like everyone else. To help you decide, here are five of the best suitcase designs for kids.
Ready-made entertainment suitcase
Kids can get bored easily, particularly on long journeys. So whether you're waiting at the airport for a delayed flight or trying to keep your kids entertained in the car, invest in a suitcase that offers a wipe clean surface on one side. This will let your kids draw to their heart's extent, and there's no need for you to rummage about in your handbag to find paper either.
Cuddly suitcase
Sometimes all your little one needs is a great big hug but when your hands are full with the rest of your luggage, this can be a bit difficult. And you can guarantee that their favourite teddy bear is buried deep amongst the rest of their holiday gear. In such cases, a cuddly suitcase is just the ticket to keep your child happy.
Racing car suitcase
Keeping young children entertained can be difficult at the best of times, but when you're in a crowded airport or on a busy ferry, keeping an eye on your children as well as everything else that's going on around you seems impossible. Investing in a racing car suitcase for your kids means that rather than having to drag their case along, your children can pretend they're on a race track. These suitcases are car shaped with wheels so that your child can ride his suitcase along.
In-built beauty parlour
If your daughter is already becoming a mini beauty queen, let her indulge in her beautifying regime by investing in a suitcase with in-built mirror and beauty cabinet drawers for storage. That way, you'll also be able to easily separate beauty products and accessories from the rest of her clothes and you'll prevent her from running off to the bathroom every few minutes to check her hair and make-up.
Animal print
Children love animals and animal patterned objects. So whether you purchase a suitcase with your child's favourite television character emblazoned across it, or a case in the shape of their favourite wild animal, you're sure to earn extra brownie points. What's more, your child will develop a confidence that will make them feel super stylish amongst their peers, and building confidence whilst your child is young is essential for later life.
With so many different suitcase designs for children to choose from, you'll find that you're spoiled for choice. Choose any of the above design ideas to make your child smile the next time you go away on holiday.
Author Bio
Guest post contributed by Olivia Wilding, an avid blogger and traveller, now a mother of two who can't go travelling without her antler luggage
You may also love reading "International Travel: Overcoming Frustration with the New and Different"