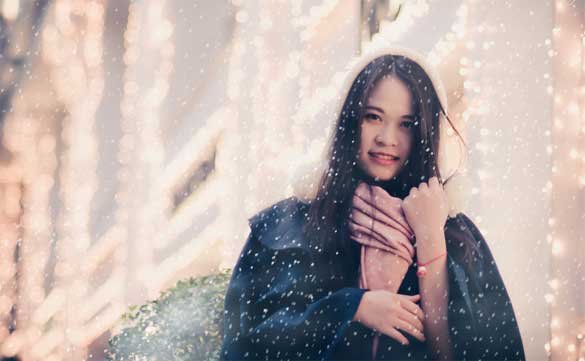 Photo © Dino Ngo
With the days cold, the nights long, the clocks still not at BST, and colleagues spluttering and spreading their germs all over the office – isn't it time you booked a nice cold weather break?
Whether you're craving some winter sun, simply after a change of scenery, an adventure or the chance to do very little for a week, a holiday over winter can do wonders; recharging the batteries and helping you relax and stay happy throughout the colder months. And the good news is there are steps you can take to save money on your vacation too.
Be Flexible
If possible, be flexible with regards to when you can travel as holidaying out of season will naturally be cheaper. For example, the month of January tends to be quiet in European cities like Rome, Barcelona and Amsterdam which means accommodation is cheaper as a result – whereas peak times like Christmas and half-terms are always going to be more expensive.
Also, being able to travel at unpopular times like on a Sunday or mid-week could help to cut the cost of your winter holiday too.
Holiday Your Way
You know exactly how you like to holiday so consider this when you're looking for deals. Decide whether all-inclusive or self-catering works best for you and your budget, for example.
Some people like to spend a bit more on booking an all-inclusive holiday in the sun, knowing that when they arrive everything's been paid for, and they can eat and drink as much as they like without having to worry about the bill increasing. However, others prefer to be under their own steam, staying in a self-catering cottage or apartment, and in control of what they spend when they're away, choosing between going out for dinner or shopping in the local supermarket and cooking at home.
Plan Ahead
Think about your whole trip in advance, including airport parking, to save money on extras – for example, turning up at the airport on the day will cost you a lot more to park for the duration of your holiday than it would if you looked for a deal online and paid before you travelled.
You can save money by packing smart too, purchasing what you're going to need before travelling. For example if you're off on a ski holiday, buy a wool hat or knit one out of a cosy Merino yarn whilst in the UK, as specialist items like these are bound to be marked up in at your destination as retailers can target a captive audience.
Research Online
It's always worth shopping around when booking a holiday, whether you're planning yours months in advance or hoping to grab a last-minute deal. Visit comparison sites so you can easily compare what's on offer, and take a look at some of the big tour operator sites too. Work out whether it's cheaper to book your entire holiday, including flights and car hire, in the one place or to do this separately.
And don't forget, if you can be flexible with your dates, to play around with these on the websites to see what a difference to the cost of the holiday this makes – see whether flying on a Sunday lunchtime in mid-January is more cost-effective than going on a Saturday in late-January, for example. Often, flying at a less convenient time such as very early in the morning or late at night can significantly bring the price down, and if this is something you can cope with you might want to consider this option.
Guest article by blogger C.D. C.D is a mum and takes her family on small getaways when possible, saving pennies along the way. She's also an avid knitter, using Merino yarn from Pack Lane Wool to knit hats and scarfs, saving money.