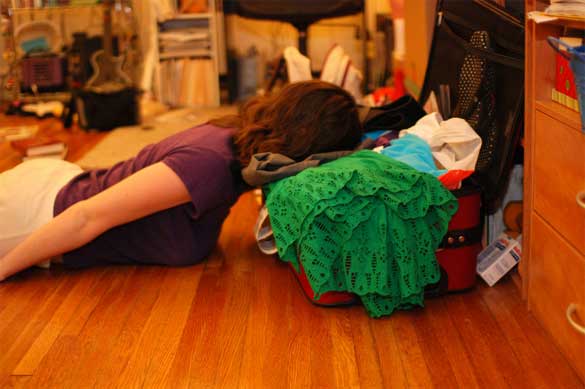 Photo © Julie
Packing that all important suitcase ready to jet off on your holidays can seem like a daunting task and one that we are all guilty of rushing, resulting in dodgy holiday snaps of us wearing sarongs and Converse in that lovely restaurant on the beach. Follow some simple tips and this slapdash approach to packing will be a thing of the past.
Plan outfits:
Pick out all your outfits, including a few accessories. This way you can avoid finding yourself stuck with several old t-shirt and short combinations and nothing for the evening. Plan your outfits through from day to night wear, including layers for over your swimsuit.
Holiday specials:
Don't think that just because you are going away you won't need to take those special outfits which have been languishing at the back of your closet. This is the perfect time to pull out that dress you wore for a summer wedding that can easily be dressed down with a pair of pretty flats and a floaty scarf.
Shoes and layers:
If you wear your trainers on the flight that will leave room for a pair of flats and a pair of wedges in the suitcase, covering both day and evening outfits. Plan for chilly nights and unseasonable days by packing a light jacket or simple blazer and a cotton cardigan to be worn over dresses and summery tops.
Wear warmer clothes on the plane:
You probably won't need your favourite jeans once you are in the sun, so wear them on the flight, perhaps with a warm jacket or hooded top, and then you have them with you if needed.
Underpack, don't overpack:
We are all guilty of saying to ourselves 'they will come in useful' and popping in the extra pair of heels. Invariably, they remain squashed in the bottom of your case and never get to see the sun. If you don't think you will wear it, don't pack it. Leave space for those holiday souvenirs and fashion bargains instead.
One party dress:
Pick one dress for a night out and match it with good underwear. There is always a reason to dress up on holiday!
Pile up, pack it in:
Fold and pile all your things, apart from those on hangers. Start with shoes on the bottom of the case and build up with your folded items. Use bags to wrap your wash stuff in just in case shower gels etc pop open en route. Put smaller accessories in your evening bag so they are safe and make sure you have phone chargers in there too.
All hangers together:
Items on hangers can be held together in a thin dry cleaners garment bag to stop them from creasing once packed. Lay these on top of the rest of your things and they can be taken out and hung straight away once you arrive.
Travel items:
Keep all your travel essentials together so they are easy to find when you are packing. Store your passport with other must haves like travel plugs, guide books and the all important stomach remedies, that way you won't forget anything.
Travel jewellery:
Don't take valuable jewellery and risk leaving it on the beach. Take a waterproof watch and a few token pieces of jewellery rather than your irreplaceable diamond necklace.
The author writes for movingservicelondon.com, where you can find more tips on packing, not just for your holidays but also for moving home or office.