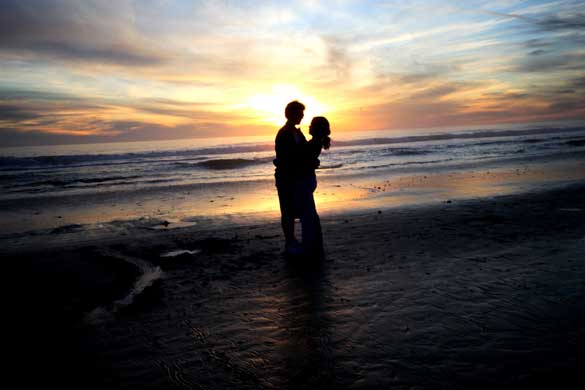 License: Creative Commons image source
There are some destinations that are just inherently romantic. It's easy to feel close to your partner when you're picnicking under the Eiffel tower in Paris or holding hands watching a sunset in the Caribbean. But if you have a different getaway in mind, it's just as easy to create a romantic atmosphere that will bring you closer together and create moments that you will never forget. Here are some ideas to spice up your vacation, no matter where it is!
1. The best prize is a surprise!
A bit of mystery makes vacation more interesting and exciting. If you're feeling adventurous, don't let slip where your destination is until you get to the airport! Sneaking your partner away for an adventure will create a fun and spontaneous feeling that will last throughout your trip.
If planning an entire vacation by yourself seems daunting, add a little element of surprise to the vacation plans you make together. Plan a fun activity or romantic dinner together that your partner doesn't know about. They'll be touched by the thought you put into planning something extra, and will enjoy the unexpected outing.
2. Cuddle up!
Summer is prime time for vacations, and a beach trip may seem like the most romantic idea. If you want to save a bit of money and have an equally romantic getaway though, try traveling in the winter. Taking your loved one to a wintry location and staying near a cozy fireplace for the weekend creates an immediate intimacy. Add in some skiing or other wintry pastimes during the day, and just cuddle up in your room for the evenings.
Make any hotel into a luxury experience during the winter by packing your own cozy essentials. Bring extra blankets, scented candles, hot cocoa, or anything else that will help you to enjoy each other.
3. Enjoy some breakfast!
Staying in a bed and breakfast is a quick and easy way to turn any getaway into a romantic one. These inns are smaller and cozier than a typical hotel, and they often create a more intimate feeling between you and your loved one. Find a B&B at your destination with a jacuzzi and a big comfortable bed, and you will have the perfect relaxing vacation.
B&Bs often offer many extra amenities beyond the complimentary breakfast to make you feel like you're living in luxury. The hospitality and personal touches make your getaway more romantic and more comfortable.
4. Ask for help!
Planning a romantic getaway alone can be daunting, but you don't need to do it all by yourself. There are lots of resources available to help you plan your dream vacation. Talk to the hotel you're staying at to pick the room with the perfect view and to see if there are any romantic touches they can help you with. From ordering flowers or champagne to a complete romance package, hotels will have different options to accommodate your needs.
If you're planning a surprise getaway, you can also enlist the help of your loved one's friends or relatives. The more ideas you have, the more likely you will be able to come up with personal touches that will mean a lot to your partner.
5. Keep the romance going!
It isn't enough to have a romantic destination, the perfect hotel, or flowers to make a getaway feel special. The most important part is making your partner feel loved during the entire trip. Avoid the stresses and arguments that vacation can often bring and just enjoy each others' company. Don't pack your day full of sightseeing and activities; be sure to plan time for romantic meals, couples massage, yoga classes, or whatever the two of you like to do to feel close.
This article was contributed by Kayla Dunmar, bride-to-be and contributing blogger for Governor's House Inn, a bed and breakfast in beautiful Charleston, South Carolina.