Weekends are often reserved for hanging out with friends at the local hot spot or perhaps a road trip to a local attraction, but that doesn't mean we have to follow the tradition. Weekend getaways aren't plausible for international travel or for traversing the New York metropolis, but some cities are the perfect size for getting away for two to three days. These cities offer a few key attractions, a unique local vibe and incredible food.
Austin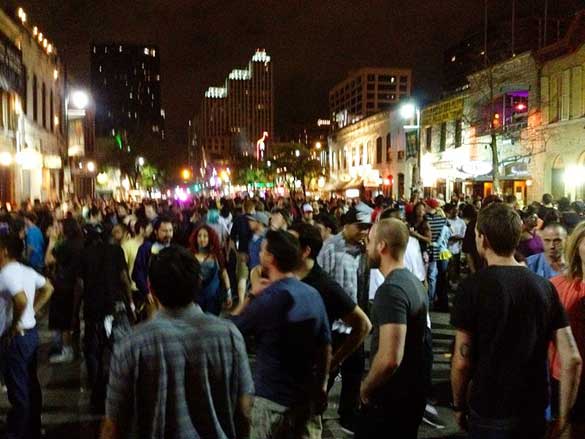 Image source wikipedia
Whether you go for the huge music scene, authentic Texas BBQ or a tour of the big monuments, downtown Austin has what you are looking for. The city has more music venues per capita than any other city in the U.S and also features the largest urban university. While there, be sure to grab some BBQ from classic Rudy's complete with their specialty "sawce" and a free tour of the Texas capitol, the tallest in the nation. (It's even taller than the national capital. You may be sensing the theme here.) If shopping is your thing, head to South Congress Avenue will you will find handcrafted items, cowboy boots and antiques.
New Orleans
You can easily traverse New Orleans' main attractions in a weekend. Explore the Quarter and Garden district by streetcar, and take a break from the heat in the Audubon Aquarium and National World War II museum. Be sure to take a boat tour through a bayou or on the Mississippi river, and make sure at least one night is spent listening to some jazz and blues. Enjoy some classic food at the Commander's Palace for dinner, and grab a Po Boy for lunch.
Santa Fe
Santa Fe is full of southwestern charm. With stunning architecture, art galleries and fine dining, Santa Fe is also fully connected to its past. The Santa Fe Plaza hosts Native American artisans and art galleries that are easy to walk between. For more art, head to the Canyon Road Arts District where you can stroll along the stream and see work from world-renowned artists and local craftsmen alike. When you get hungry, head to Santacafe for some classic, southwestern fare.
North Conway
For an authentic New Hampshire experience and a quick mountain vacation, head to North Conway, which is situated in the heart of the White Mountains. Whether you go for the skiing or the small town, New England shopping experience, you will be surprised how much a small town has to offer. Stay at one of the classic hotels in North Conway, NH, such as Stonehurst Manor, which offers gourmet dining in a casual atmosphere, and take a ride on the scenic railroad. The Mt. Washington Observatory is also just a short drive away and will give you a look at some of the most extreme weather in the U.S.
Boston
One of the best weekend stops for the history buff, Boston probably offers the most historical hotspots in one concise area in the United States. The Freedom Trail takes visitors past 16 historic Revolutionary War era sites in its 21/2 mile path. Boston is also the land of firsts: the first public park, the oldest running restaurant and the oldest running bar. Be sure to take a stroll down Boston's Back Bay neighborhood and to try New England seafood: lobster, oysters and clam chowder.
San Diego
Although San Diego is the second largest city in California, it actually has a small town feel. Hit up one of the city's biggest attractions, the famous zoo and safari park, Legoland and Seaworld, or rent a bike to explore the shops and restaurants along the shore. If you are into surfing, San Diego's beaches will offer you some of the best weather for it year round. Don't forget to grab some fish tacos before you leave. Mahimahi is the local favorite.
Seattle
Seattle revolves around its famed waterfront and features attractions like the Space Needle and rock and roll museum, the Music Experience Project. The city is also passionate about its food with plenty of farmer's markets and great seafood.
Vincent Stokes is an outdoor enthusiast and an experienced world traveler and works to promote pride in homegrown travel destinations. You can also connect with Vincent on G+ or twitter (@TravelingGlobal).