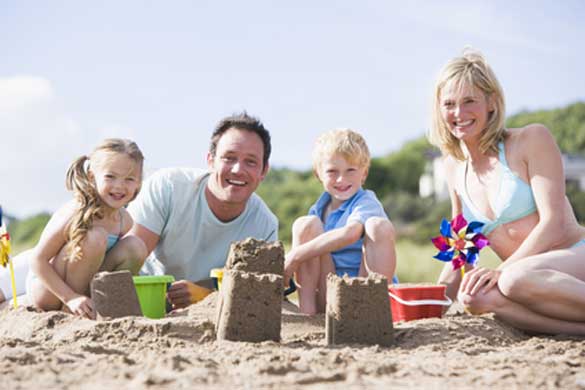 License: Royalty Free or iStock source:
When it comes to our annual family vacations, even though the recession has meant we have less to spend, having a nice holiday is still a vital part of the summer for our family. Last year I used a website to buy the different aspects of our holiday separately, but although it looked cheaper on paper there were so many extras included that it wasn't that much cheaper than vacation packages. That was why we chose to go on an all-inclusive package to Mexico for our holiday this year, which really helped us to know exactly what we were spending.
Travelling With the Family
With two children under ten, even the most basic Saturday afternoon in the park often comes with added expenses, and this was what proved to be the most expensive aspect of the holiday I booked myself. All those additional trips and drinks really started to add up, and my daughter loves her ice-cream, which may be cool on the tongue but really burns through the cash. That was probably one of the reasons that we decided to look at the beach holiday vacation packages, and try a different type of holiday this year.
Getting the Best Value
When we were booking the holiday it was still dark in the evenings, and the prospect of the warm sun and a golden beach meant every destination looked attractive, but we still looked at lots of different destinations. Getting good value is important, but we also wanted something that meant my daughters would be happy but also meant that us adults could relax and enjoy ourselves too. As a family we made a list of everything the destination had to have, and then had a look around at a lot of vacation packages to find the one that offered the best value for money while still having everything we wanted.
Is All-inclusive For Everyone?
After the hassle and hard work of booking last year's holiday, one of the attractive features was that just about everything in the holiday was covered in the all-inclusive vacation packages. I didn't want to see the costs spiraling once we were there, and apart from a few gifts for friends and family and one day we spent outside our hotel, everything else was covered. Having enjoyed both the vacation packages and independent travel, I can see that some people want complete freedom, but for us the luxury of having everything taken care of by the travel company was just great.
Family Holiday Deals
When we were looking at the best vacation packages, we found a number that allowed the kids to go for free, and when this was to a hotel with plenty of facilities for the kids it proved to be a great deal. We've had to tighten our belts and be a little more budget conscious as a family over the last few years, but with the all-inclusive vacation packages they are easy to plan for and the extra expenses were under $200 for us, so for our family it is something we will look at next year again.
Lara Shelby is an employee of Thomas Cook Family Vacations and a freelance writer, and when she's not helping families book their holidays, she enjoys cycling, sightseeing, and having fun with her family.