As a hotel entrepreneur, you want to attract as many quality guests as you can to your hotel. This assures that you get good word-of-mouth advertising, which is the most sought-after recommendation among travelers. Word of mouth means everything because it's firsthand knowledge. Unfortunately, word-of-mouth recommendation doesn't happen overnight. You must first attract a wide variety of good clients so that you build a good base. How do you do that? You invest in good, solid marketing strategies to ensure that your hotel has maximum visibility. Here are just a few options to accomplish the important task of drawing visitors to your hotel.
Business Expo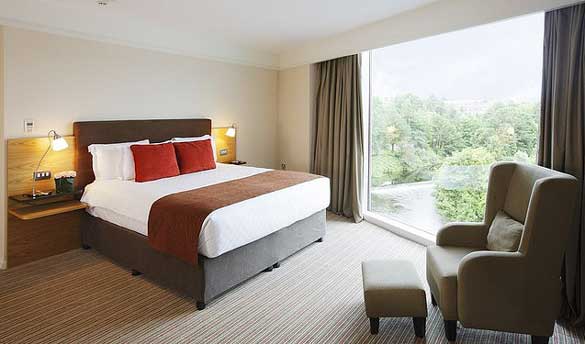 Photo Credit: The Doyle Collection
Most cities, particularly major cities, host annual business expos, in which local businesses appear and display their services for interested attendees. A business expo is a great way to market your hotel. Think of it as easy market research, where you're literally face to face with potential guests. During an expo, you can present information at a specified booth, so you have an opportunity to create an impressive marketing presentation. You can display anything from examples of your linens to food samples, and anyone you send as a representative should be well-versed in your hotel's culture so that they can answer questions. This is an inexpensive way to market yourself to the local city culture, and you should take advantage of any expo opportunities available.
Business expos are:
High-profile.
Cost-effective.
Hands-on marketing.
Discount Websites
Sometimes, offering discounts is the best way to drive new traffic to a business, especially a hotel. With discount websites offering anywhere from 20-50% off of hotel rooms, it might be in your best interest to jump on the discount bandwagon. Marketing depends on visibility. Groupon and LivingSocial partner with local chains to offer their users new experiences. This can be a great way to market to people you might not normally attract. By offering a discounted rate on multiple-night stays or extra perks if guests purchase a regular package, you'll gain visibility to a broader range of guests who might not otherwise have considered your hotel.
Discount websites offer:
Quick promotions.
Good exposure.
Easy-to-use marketing.

Social Networking
Social networking sites like Facebook and Twitter draw a large crowd, mainly in the young adult bracket. Like discount websites, social media sites offer greater exposure and a larger pool to which you can market. Most major corporations, including large hotel chains, utilize a social media site to drive traffic to their business. Many places also offer specific promotions for "liking" a company's page or participating in their online contests. Using social networking enhances your hotel's visibility while appealing to a new generation of hotel guests.
Social media sites can be:
Interactive and fun.
Promotional while being engaging.
A good way to reach new audiences.
In order to attract new guests to generate word of mouth recommendations, you need to focus on reaching out to a broader market. In order to do this, you should utilize both face-to-face interaction as well as social networking and developing an online presence. With current technological advancements, it's possible to gain a high level of visibility simply by incorporating promotions through social networking websites. Traditional advertising has given way to more interactive marketing. As a hotel entrepreneur, you should take advantage of this technology.
Sally is a keen traveller and blogger and enjoys writing for The Alverton. The premier Truro hotel based in Cornwall, England.