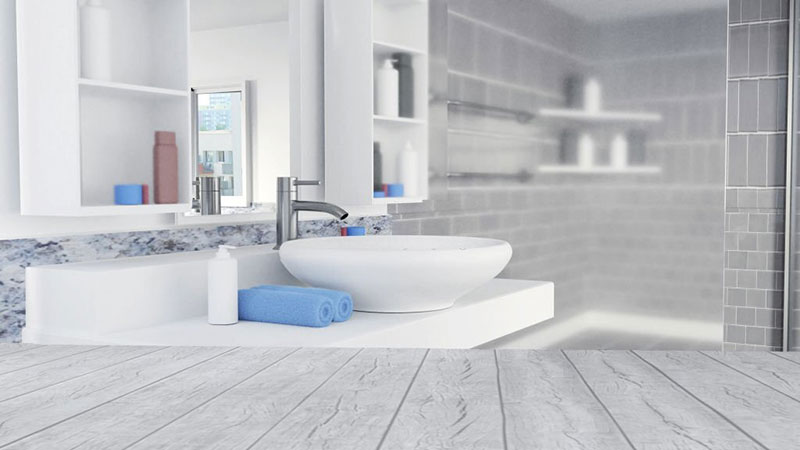 The Luxury Bathroom doesn't mean possessing only fancy tubs or luxury items but it's something beyond that. Let's find out some of the most Extravagant bathroom suites in the world.
Aquarium Bathroom
As many seaside and beach resorts have their bathroom suites and toilet cubicles decorated with wallpaper depicting fish and other ocean-dwelling creatures swimming about. This is quite a popular and well-received choice over traditional bathroom tiles, as it adds to the overall sense of being at the beach. However, a bathroom in Japan has gone one step further. Instead of simply getting wallpaper that looks like the ocean, they have literally got the ocean. Three of the four walls surrounding the toilet are filled with various types of fish and even boast an old sea turtle. If I'm honest, it sounds like quite an unnerving experience.
Underwater Bathroom
As impressive as the previous aquarium bathroom is, it doesn't hold a candle to this next bathroom.  Keeping in line with the extravagance and rich lifestyle that is now synonymous with Dubai, the luxury resort 'Atlantis' has gone one step further than the Japanese bathroom. Located on the famous man-made island, Palm Jumeriah, this bathroom suite doesn't have a bathroom tile insight. Lucky visitors who manage to book the Poseidon suite in Atlantis can enjoy taking a bath while watching over 65,000 sea creatures swimming past, ranging from manta rays to sharks.  I sure wouldn't want the separating glass to crack.
Vertigo Bathroom
Back on dry land, this bathroom cubicle is specially designed to give you the feeling of vertigo.  Very narrow in width and clever aesthetic design give the sense of being trapped between tall buildings as the perspective gets smaller as you look down, and larger as you look up. It really leaves you not wanting to fall off the toilet seat.
One-Way Glass Bathroom
Who needs bathroom tiles when you can just make your bathroom cubicle completely out of glass?  A crazy, and again slightly unnerving, concept based in the heart of London, located opposite the Tate Britain gallery, this wouldn't be everyone's first choice when needing to use the restroom. It is completely made of glass, one-way glass bear in mind so that the occupant of the restroom can see out, but no one can see in. What a strange experience that must be.
Pure Golden Bathroom
This list of unique bathrooms would be nothing without the bathroom made out of pure gold.  Hong Kong entrepreneur created this piece of art in 2001 as part of a showroom at his shop. Modeled on ancient European palaces, this bathroom boasts a fully functioning toilet made completely from 24-carat gold. The whole bathroom cost £2.4million to create and is recognized as the most expensive bathroom in the world.
Viewing Platform Bathroom
This bathroom suite located in the Columbia Tower in Seattle has proven to be one of the most beautiful and tranquil of bathrooms. Not just in terms of decoration, with bathroom tiles being replaced by marble and brass, this bathroom gives you a complete view of the Seattle skyline. It was built with the purpose to give people a tranquil escape from their busy everyday lives.
Written by Alex Girardi, who recommends Makeover Bathroom Company for all your bathroom tile needs.