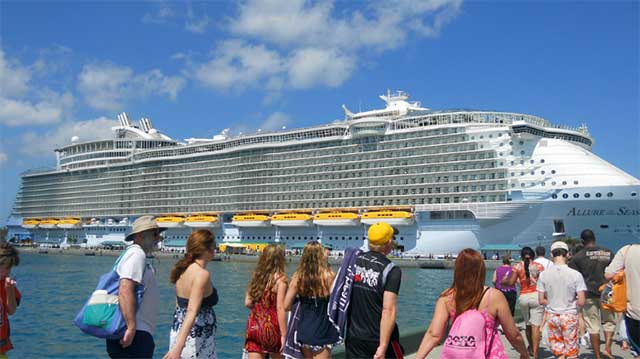 Photo Credit: Barbara
Cruise holidays are becoming increasingly popular among many people, and the industry seems to have seen continuous growth in recent years. However, as with all holiday choices, it helps to know what you are looking for, and the little things that you can do as a consumer to help you save money. Here are what I think are the best tips for doing so!
AVOID PEAK TIMES – It may seem obvious, but a lot of people don't think about this when they are booking their summer holidays. Naturally, people with children will tend to book in the 6 weeks summer holiday, or around their Christmas break. However, as these are the busiest times, peak times tend to come hand in hand with peak prices.So, booking when the kids are at school or in less popular seasons is bound to save you some money.
BOOK EARLY – Although last minute deals and getaway fares on holidays, from holiday parks to cruises, can be extremely tempting and draw the consumer in, booking early has been coming with increasingly better perks. Many cruise customers who book early are receiving benefits that late comers won't get; such as better choices for dining times, on-board credit, free upgrades and much more. So, sometimes, you need to look at the bigger picture, as a last minute deal may not be the best deal after all!! I myself have even booked onto P&O Oriana 2014, as another perk of this is being organised means less stress, and panic over paying holiday costs off!
SAIL ON OLDER SHIPS – Although many people prefer having more facilities, and an activity packed ship, there is no denying that older cruise vessels are full of character and charm. The cabins tend to be a little smaller, and there are less balcony cabins, so if you are one who just uses their cabin for sleeping in, an older ship is an ideal money saving alternative!
AIM FOR CHEAPER ITINERARIES – It may sound obvious, but a lot of people don't think about even considering this when booking cruises. Think of the economies, for example. Europe isn't exactly thriving at the moment, so a Mediterranean cruise will work out cheaper, night by night, in comparison with say a Caribbean cruise, or a Transatlantic. And then there's the obvious; if you really crave a cruise holiday but are on a tight budget, go for shorter itineraries of 3-7 night, rather than 12 or 14!
TRUST A TRAVEL AGENT – Nowadays, a lot of people rely solely on the internet to book holidays, and assume everything will be quicker, cheaper and easier – but that is not always the case. Travel agents can be relied on to make sure that every little detail is planned for you – even the discrete things that it's easy to forget. They will put your mind at ease and take all of the stress off you – so your holiday is as relaxing as it should be – even before you board the plane, or pull up at the port!
BE WISE – You need to count for any extra costs that you may incur. "All inclusive" can be misunderstood by many, as the spa and other extras will usually require you to have a bit of spending money whilst on the ship. There are plenty of budget calculators like this – http://www.independenttraveler.com/travel-budget-calculator – to allow you to account for such things.
So, cruise holidays can be amazing fun, and truly are the favourite form of travel among many people. If you just stop and think, and follow some of these simple tips, you will not be surprised by any unexpected costs, and find that perfect cruise holiday that fits nicely into your budget!
You may also love reading "Tips And Tricks For Taking Great Travel Photos"