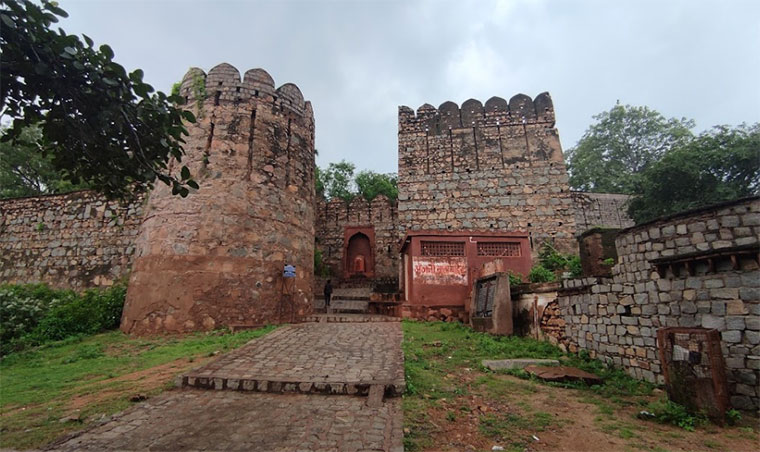 Barua Sagar Fort is a Historical landmark in Talarmanna block in the Jhansi district of Uttar Pradesh located about 25 km from Orchha, it falls on the Khajuraho-Jhansi route a small town belonging to the Bundelkhand region. Baruasagar is a city and a municipal board in Jhansi district in the state of Uttar Pradesh, India. The name Barua Sagar was named after a beautiful lake called Baruasagar Tal. Maharshi Shringirishi Temple is also located near lakeside. Apart from the lake, Barua Sagar is home to several ruins of forts and temples that were once the glory of the city.
The Barua Sagar Fort is one of the historic citadels of India. The Marathas and the Bundelas crossed swords here in 1744 AD. It was one of the fiercest battles fought between them. The Archaeological Survey of India (ASI) has renovated this fort made of sandstone.
The name of this structure situated atop a hill is after the Barua Sagar Tal — the sprawling lake that was formed while an embankment was constructed around the town during the reign of Orchha King Raja Udit Singh more than two centuries ago. From the ramparts of the Fort, one can have a splendid view of the picturesque surroundings including the Barua Sagar Lake and the entire catchment area created by the dam built across the Betwa River. There are the remnants of two temples dating back to the Chandela days.
Guide Map
The 'Must See' detours in Orchha are: Jaraika Math, Mahoba, Gorakhgiri, Kalinjar, Deogarh, Chitrakoot and Jhansi. Barua Sagar is also a perfect spot for trekking.