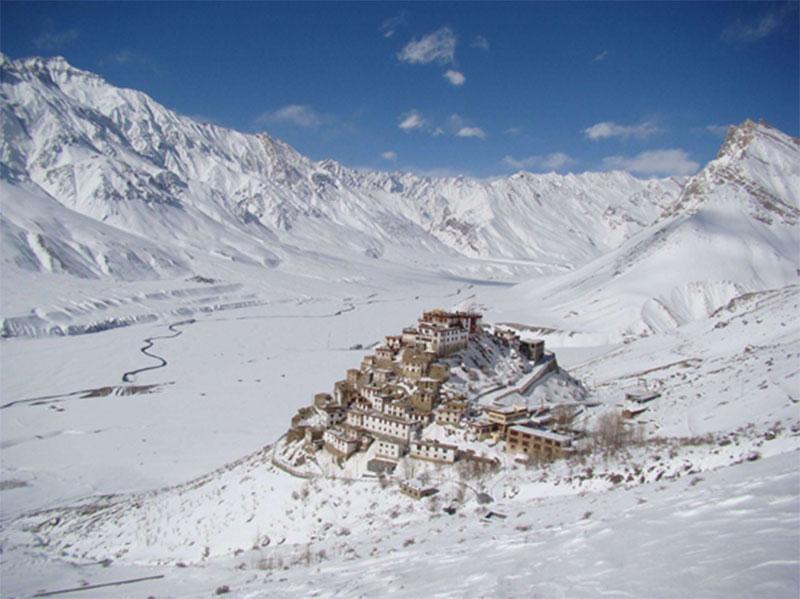 Introduction
Nestled deep in the Himalayan mountains, Spiti Valley remains one of India's best-kept secrets, a hidden gem that beckons adventurers, nature enthusiasts, and seekers of tranquility. This remote and isolated region, located in the northern state of Himachal Pradesh, offers an experience like no other. In this article, we will delve into the mystical Spiti Valley, uncovering its captivating beauty, unique culture, and the practical aspects of planning a trip to this remote haven.
The Geographical Marvel
Spiti Valley, a cold desert mountain desert, is part of the larger Lahaul and Spiti district. Its geographical marvel lies in its remoteness, high altitude, and arid terrain. The valley is surrounded by towering snow-capped peaks and nestled between Tibet and India. Some of the prominent peaks surrounding the valley include the Chau Chau Kang Nilda, which stands at 6,303 meters and the mighty Leo Pargil at 6,187 meters. The rugged terrain of the region is a treat for adventure seekers, with opportunities for trekking, mountain biking, and exploring challenging terrains.
Key Attractions
Key Monasteries: Spiti Valley is home to numerous ancient monasteries, some of which are perched on cliffs, and others nestled in quaint villages. The Ki Monastery, dating back to the 11th century, is a prime attraction. The monasteries are not just architectural wonders but also serve as spiritual hubs for the residents.
Chandratal Lake: Known as the "Moon Lake," Chandratal is a high-altitude lake that changes its colors with the seasons. Surrounded by vast meadows and overlooked by mountains, this lake is a must-visit for nature lovers and photographers.
Pin Valley National Park: This national park is home to the elusive snow leopard, along with various other rare wildlife species. It's a paradise for wildlife enthusiasts, providing a chance to spot the elusive big cat in its natural habitat.
Dhankar Monastery: Located atop a hill, this ancient monastery offers a breathtaking panoramic view of the valley. It's also a starting point for various treks.
Langza: A picturesque village known for its towering Buddha statue and ancient fossils, Langza provides a glimpse into the region's rich geological history.
Kaza: The region's administrative headquarters, Kaza, offers a glimpse of civilization amidst the remote wilderness. It's the place to stock up on supplies and enjoy a variety of dining options.
Culture and Traditions
Spiti Valley is predominantly Buddhist, and the influence of Tibetan culture is evident in its monasteries, festivals, and the way of life. The warmth and friendliness of the people in this region are truly remarkable. They welcome tourists with open arms and take pride in sharing their culture and traditions. Don't miss the opportunity to witness local festivals, such as Losar and Spiti Gustor, which showcase traditional dance, music, and rituals.
Weather and Best Time to Visit
The harsh climate of Spiti Valley makes it inaccessible during the winter months, with many roads and passes being blocked due to heavy snowfall. The best time to visit Spiti Valley is during the summer months, from late May to September. During this time, the weather is relatively mild, and the roads are open for exploration. However, it's important to be prepared for sudden weather changes and fluctuations in temperature, even during the summer.
Accommodation and Facilities
Accommodation options in Spiti Valley range from basic guesthouses and homestays to more comfortable hotels and resorts in larger towns like Kaza. While the amenities may be basic, the hospitality of the locals is exceptional. Be prepared for limited connectivity and basic facilities, which are part of the charm of visiting such remote destinations.
Road Conditions and Travel Permits
Accessing Spiti Valley can be an adventure in itself. The region is connected to the rest of India through two routes: one via Shimla and the other via Manali. Both routes offer spectacular views but are subject to road closures during the winter months. Additionally, foreign nationals require a special Inner Line Permit (ILP) to visit Spiti Valley, which can be obtained in Kaza or Shimla.
Conclusion
Spiti Valley, with its unique blend of natural beauty, rich culture, and rugged terrain, is an explorer's paradise. It's a place that challenges the mind and captures the heart. To truly experience this hidden gem in the Himalayas, one must be prepared for an adventure of a lifetime. From breathtaking landscapes to cultural immersion, Spiti Valley offers an unforgettable journey that is worth the effort to reach its remote, enchanting corners. So, plan your trip, pack your bags, and embark on a once-in-a-lifetime adventure to Spiti Valley – an experience that you'll treasure forever.