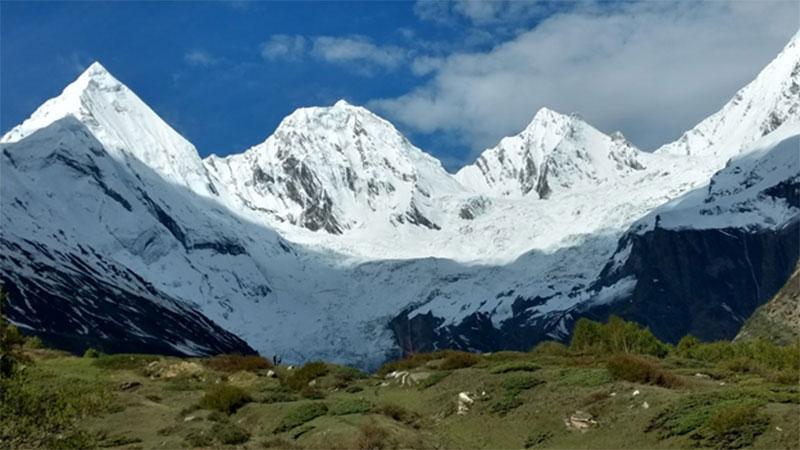 Introduction
Ever picture yourself wandering through the skies with the majestic peaks of the Himalayas all around you? If yes, you may want to consider trekking to the top of Pangarchulla Peak Trek in Uttarakhand, India, one of the most challenging and rewarding hikes. In this blog post, I'll discuss my trip to Pangarchulla Peak, which is situated at a height of 4,575 meters. I'll tell you why I chose this particular path, what I saw and experienced along the way, and how I reached the summit in time to see a breathtaking daybreak. As I take you on an aerial trip, please follow me.
Rishikesh to Karchari/Dhaka
Our adventure began in Rishikesh, where we boarded a car and drove to Dhaka/Karchi, the starting point of our trek. During the delightful and enjoyable excursion, one could see the holy Ganga river, lush hills, and gorgeous cities. We spent the night in our tents after arriving in Dhaka/Karchi in the afternoon. We were eager to start our journey and see the magnificent views of Pangarchulla Peak the next day.
Journey to Auli and Tali from Dhaka/Karchi
The next morning, we departed for Auli, a popular ski resort in Uttarakhand, from Dhaka/Karchi. We traveled steadily and leisurely, through little villages, meadows, and forests. We enjoyed the view of Ghori Parvat, Hathi Parvat, and Nanda Devi's snow-capped summits. We arrived at Auli after a few hours and rested for a while. We then continued going to our overnight destination, Tali. Tali was a beautiful meadow surrounded by oak and rhododendron trees. We pitched our tents and retired for the evening.
Khullara to Tali
As we climbed from  Khullara to Tali on the third day, our hike became harder and more exciting. We ascended over a rocky, steep path through dense forests of oak and rhododendron. We also had to cross a few bridges and streams on the journey. The highlight of the day was reaching Khullara, a vast meadow overlooking the Himalayan peaks. Nanda Devi, Chaukhamba, Hati-Ghori and numerous more peaks were visible from our camping. We felt as if we were nearer the sky and were in awe of the beauty of nature.
Khullara acclimatization
In Khullara, we used the fourth day to adjust to the altitude and prepare for the climb to the top. We had a closer view at the Himalayan range on our short and easy journey to Kuari Top and back. We also enjoyed playing in the snow, making snowmen, and having snowball fights. For the rest of the day, we napped, rehydrated, and got ready for the summit day. We were excited, nervous, and impatient to reach Pangarchulla Peak.
Climbing Pangarchulla Peak from Khullara and Returning
On the fifth day of our adventure, the most awaited and memorable day, we climbed from Khullara to Pangarchulla Peak and returned. We began climbing over rocks and snow around four in the morning, when we left early. The climb was tough and tiring because of the cold and strong winds. Still, we didn't give up and kept motivating each other. After climbing for about five hours, we reached Pangarchulla Peak, which is located at a height of 4,575 meters. We were astounded to witness the sunrise over the Himalayas; it was just amazing. We felt proud of ourselves and happy as we hoisted our flags and took pictures at the top. We lingered at the summit, admiring the view and expressing our gratitude to the natural world for this opportunity. Then we started the easier and faster descent down to Khullara than the ascent.
Karchi to Khullara
On the sixth day, our last day of trekking, we descended from Karchi to Khullara. We made our way down in a leisurely and pleasant manner, retracing our route from the previous day. After spending many days with the mountains, we said them farewell. We arrived at Khullara in the afternoon and then returned to Rishikesh in a vehicle.
Rishikesh to Karchi
On the seventh day, we returned from Rishikesh to Karchi, ending our journey. We had a reflective and sentimental excursion, remembering our trek up Pangarchulla Peak. We shared stories, photos, and lessons learned. We also spoke about and made plans for our upcoming treks and outings. We said each other farewell with smiles and hugs as we arrived in Karchi in the evening.
Conclusion
A memorable and challenging hike up Pangarchulla Peak is among the best of my life. I learned a great deal about the outdoors, hiking, and myself. I saw the majesty and diversity of the Himalayas, from the villages and forests to the meadows and peaks. I was elated and delighted when I reached the summit and saw the sunrise. I made some lasting memories and new acquaintances that I will always cherish. I would recommend this trek to anybody who like adventure and wants to challenge themselves. Pangarchulla Peak is a real ascension above the cloud cover.