The Official 3 Peaks Challenge: Inspiring Achievement
You may have heard people talk of the Official 3 Peaks Challenge, where the three peaks of the highest mountains in England, Wales and Scotland are scaled in a punishing but hugely rewarding 24 hour schedule. The 3 peaks challenge has, in recent years, become popular with businesses as a corporate team building event, stag and hen dos as a celebration of independence and solidarity, or by individuals and groups raising money for charity. As a standalone experience in its own right, however, the official 3 peaks challenge is hard to beat for creating a genuinely profound sense of achievement and self belief that can last a lifetime.
The 3 Peaks
Each of the majestic mountains ascended during the three peak challenge – Ben Nevis in Scotland, Scafell Pike in England, and Snowdon in Wales – offers a tough and intense climbing experience in sublime scenery. There is no strict order in which to do the 3 peaks challenge, but the usual route is Ben Nevis, followed by Scafell Pike, and finishing with Snowdon.
Ben Nevis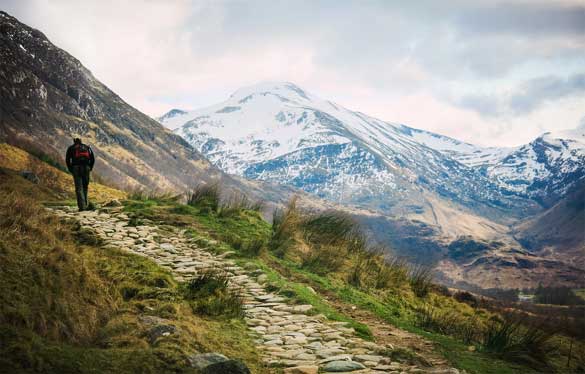 Photo © genevieve_males
Ben Nevis is the highest peak in the challenge, standing at an awesome 1344 metres (4409 ft). Atop the peak of the mighty Ben Nevis, which poet John Keats described as shrouded in "sullen mist" in a sonnet he composed on its summit, the can really feel as if you are standing on top of the world. It is a powerful almost sublime experience which, even when done on its own, is wonderful, and when done as part of the official three peaks challenge can feel genuinely transformative.
Scafell Pike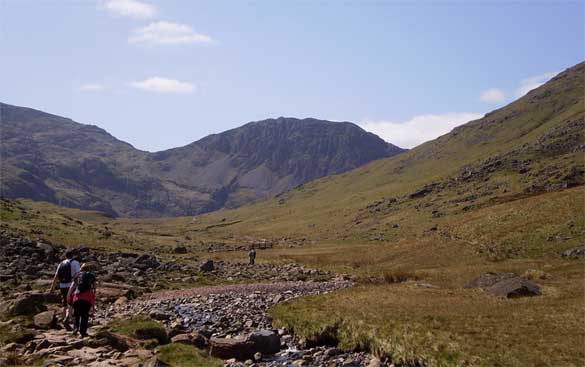 Photo © Paul Matthews
Located in what is perhaps one of the most beautiful places in the world, the Lake District, Scafell Pike is the highest mountain in England but the smallest mountain in the 3 peaks challenge, standing at 978 m (3,209 ft). Unlike Ben Nevis, which has only one clear path to the summit, there are several ways of ascending Scafell Pike, but the most usual routes start either from Seathwaite, or Wasdale Head. Scafell Pike, while perhaps not having quite the same sense of sublime, almost desolate majesty that Ben Nevis exudes, is a powerful and stunningly beautiful summit. It too has inspired its fair share of poetry, stirring the likes of Norman Nicholson to write of its sense of transcendent timelessness.
Snowdon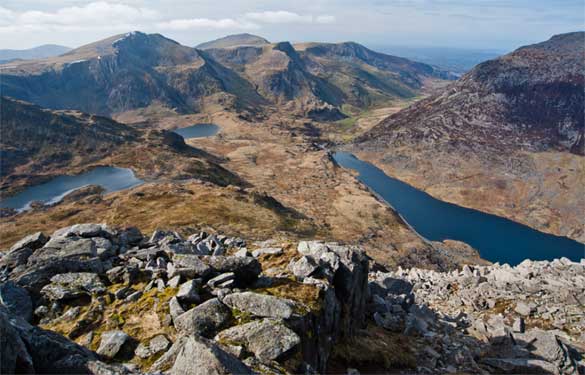 Photo © Grzegorz Buczylowski
Another mountain which inspired some beautifully moving verse, is the final mountain in the official three peaks challenge, Mt Snowdon in Wales. The poet William Wordsworth evocatively described a night time climb up the side of Snowdon in a bid to watch the sunrise from its summit. Whether you choose to take on the 1,085 m (3,560 ft) ascent by moonlight is your choice, but whatever time you take on Snowdon it is sure to be a powerful and rewarding experience. It really is the perfect end to the three peaks challenge.
Snowdon at Sunrise by sebholland. Published on Creative Commons attribution license.
3 Peaks in 24 Hours: Can You Do It?
If all this poetry has inspired you to go ahead and take on the three peaks challenge, the final thing to ask yourself is: are you fit enough? These mountains are not just beautiful; they are often steep and can be exhausting to climb, even on their own. Bagging all three peaks in 24 hours involves strength, determination and the base level of fitness of a strong walker.  There are a number of tour companies that offer official three peaks challenge tour packages and it worth doing a bit of research online to see which best suits your needs. Just don't forget to take a pencil and paper with you in case the poetic spirit gets ignited within you!
Kate Parker is a keen fellwalker, writer and blogger. She has written this piece on behalf of the Official Three Peaks Challenge powered by Mountain and Glen.