The Notting Hill Carnival: Since 1966, every August Bank Holiday the streets of Notting Hill have danced, vibrated, and gyrated to the sounds of the Notting Hill Carnival. Famous for its heady mix of steel bands, carnival dancers, and street food, the Notting Hill Carnival has grown from being a small street party carnival into a two-day festival that attracts over one million people and is one of the largest carnivals in the world.
Traditionally, Sunday is children's day, when the parade route is shorter. However, with over 50,000 performers taking part in the parades there is something for everyone whichever day you attend. The Monday parade is the main one, winding through over 3 miles of Notting Hill streets, before finishing in the evening, when the after-parties begin. An array of parties hosted by the coolest DJs in the trendiest bars is where people head to take the carnival atmosphere on into the night.
There are over 40 sound systems along the parade route, playing everything from calypso to reggae to jazz; all live and loud! Combine this with fantastic costumes, many made by professionals, or enthusiastic amateurs, for an amazing experience that starts at 9 am and doesn't finish until 8.30 pm – when it's time to head to one of the many after-parties!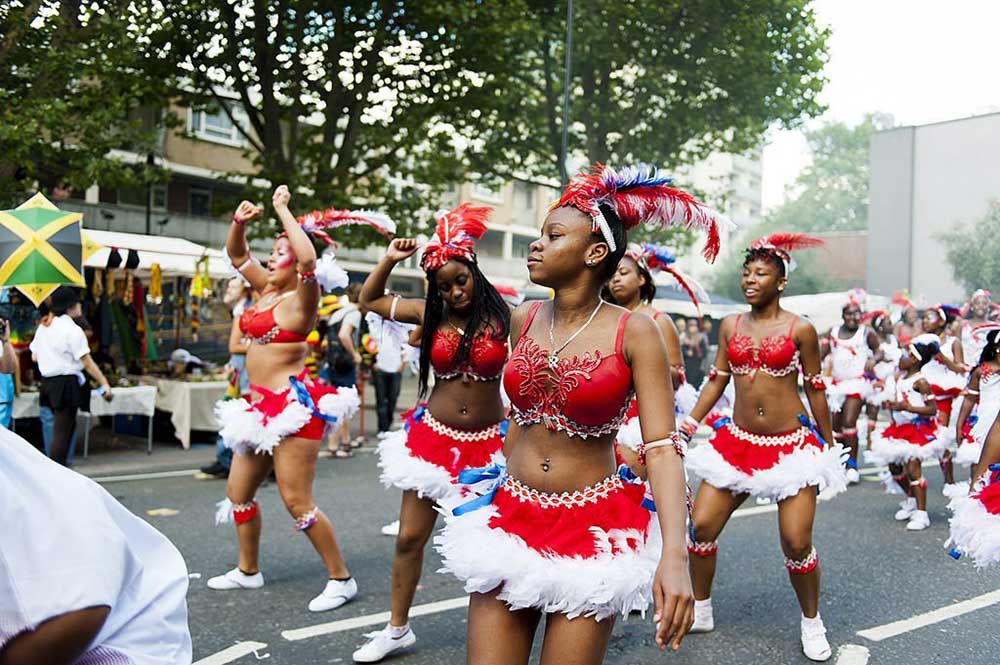 As you can imagine, so many tourists descending onto an area that is already home to many and about to host a street parade of thousands can cause a lot of congestion. London is usually best navigated anyway by public transport, however, with so many expected to arrive in the area on bank holiday weekend, the usual arrangements for underground and overground transport will be temporarily changed. Several of the London Underground stations will be 'exit only', and all those within the immediate vicinity will be closely monitored and may be temporarily closed to prevent overcrowding. It is recommended that travelers wait until the station reopens rather than trying to find another.
Overground trains will run as normal, however additional buses will be put on to accommodate extra visitors, and there will be some disruptions and diversions because of the parade route. Direct travel to the Notting Hill Carnival will need advance planning, however, there is plenty of information available from the local council and carnival organizers.
Food forms a central part of the Carnival, with over 300 food stalls along the parade route. You may have had jerk chicken, rice and peas before, but this is your opportunity to try them authentically cooked, along with many other delicacies, such as patties, goat curry and rum punch. This is a real taste sensation, so make sure you bring your appetite!
Notting Hill is very close to the rest of the city so if the hustle-bustle of the street festival is too much for you simply take a short stroll over to Hyde Park and visit Buckingham Palace.
As the biggest street carnival in Europe, combining sound systems with traditional Caribbean food and a carnival atmosphere, Notting Hill Carnival really is a feast for your eyes, ears and taste buds!
Greg is an avid travel writer who constantly writes for both clients and bloggers. Hope you love reading "Notting Hill Carnival". Share your view in the comment section below.