When talks of American family vacations come up – images that may pop into your head includes a family of four riding in a car to the coast or little kids pulling small luggage around the airport.  While these classic scenarios may be true over many generations, the type of things families do in the car or at the airport changes with new technologies. GPS saves families from pulling into gas stations just to buy a map and cell phones eliminate lines at the payphones in airport terminals.
The latest tech talks are all about social media, so how does one type of social media – Twitter – stir up the classic American family vacation?  Let's find out.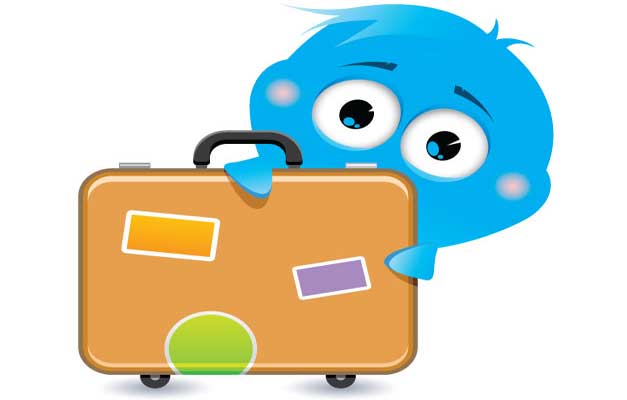 License: Royalty Free or iStock source: shutterstock.com
Get the inside scoop:
Online research is now the norm for those planning vacations.  However, information can be outdated quickly and websites may not be able to keep up, so one way to get to the primary source of information is to tweet at people.  Follow local personalities, business owners, and people who have recently visited your vacation destinations and spark conversations to find out what you need to know about the location before you get there.
Find hidden deals:
While larger chain restaurants and hotels may blast specials all over their website or on Facebook – deals can still be had with small mom and pop businesses.  It doesn't hurt to ask a local bed and breakfast if they have any offer you can take advantage of before booking.  For those who prefer larger establishments – following their tweets can be beneficial because sometimes a flash sale is just too good that if you don't get immediate notification of it – it will sell out!
Keep love ones in the loop:
Spend more time enjoying vacations and less time updating every one individually about your trip.  Calling a handful of people just to let them know that you have landed safely can be a hassle – a quick 140 characters status will accomplished that quickly.  Texting could work – but when traveling international – a quick data upload is cheaper than texting back and forth.
When in doubt – ask the world!
So you decided to show up at a popular restaurant in a foreign land for a grand feast only to find out they are closed on Mondays?  No problem, just stop anybody that walks past you for recommendation of another restaurant close by – or do it the easy way and tweet your question.  Someone in the know is bound to offer some helpful knowledge!
The next time you are enjoying the classic American family vacation – try using Twitter to enhance the experience.
Noc enjoys finding deals with traveling and sometime uses Travel Advantage Network for wholesale accomodations.