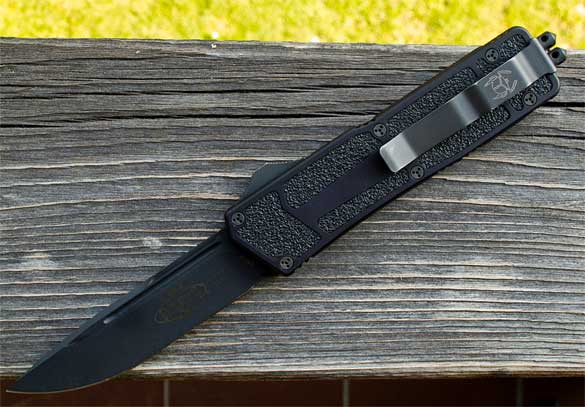 Photo © Martin.Delta
As an outdoorsman, you probably have to deal with countless heavy duty tasks. Some of them will require you to use some tact and finesse, and other will simply call for you to use your hands and a sturdy knife. Knives are convenient for a number of outdoor tasks. You can use a knife to cut rope, carve wood, and just about anything else you can think of. You may or may not currently own a knife, so here are a few ideas you may want to think about.
The Switchblade
One of the most popular types of knives in the industry is the switchblade. These automatic knives are typically equipped with a blade that either slides of folds, and that is activated by some sort of button or switch on the knife. After the blade is discharged it locks in place. A manual mechanism allows the blade to return to it's original position.
When you think of switchblade, most people may immediately think about it being used as a weapon. Although any knife can be used as a weapon, the switchblade comes in handy for a outdoorsman in a number of beneficial ways. For instance, the use of a switchblade can come in handy during a first aid emergency. You may need to make a makeshift tourniquet, or cut up a number of bandages for a wound.
Benchmade Quality
Quality is everything when it comes to picking the right knife. As someone who constantly handles tough jobs, you're going to need a brand that will last. Benchmade automatic knives are one of the most prominent brands of knives on the market. All series are made with care and are of the highest quality around. Each model is made with leading innovative designs and materials. The blades are durable and extremely long lasting.
Boker Quality
If you're shopping for a knife you want something that is tough, heavy duty, lite, and made well. You also want something that feels right and handles easy. Boker Kalashnikov knives fit the latter descriptions perfectly. If switchblades are not your thing, Boker automatic knives also come in the manual folding type as well. You can find Boker pieces with either drop point, wharncliffe, or the tanto blade style. There are a number of combinations to choose from.
Whether it's Benchmade knives or Boker, the quality of the knife is important. They may be a little pricey, but having a blade that will last for years is worth the investment. Whether you're an avid camper or an everyday farmer, a handy knife is great to have.
Dustin Williams is an outdoor adventurer who loves living out in the wilderness. One tool Dustin always carries with him when in the wild, is a good knife. Dustin recommends visiting an online knife retailer like BladeOps.com to see the styles of Benchmade knives Boker Kalashnikov knives.