No matter how old you are, a city made of ice sculptures has an inexpressible and magical power. It makes older folks feel like children again. And for the younger generation it is a celebration of life. It magnifies the beauty and innocence of their childhood, and everything that comes with it.
It doesn't matter where in the world you live either, ice sculptures and ice festivals are admired by all ages all over the world. Whether you live in Canada and Russia where winters get really cold, or Dubai, the wondrous beauty of sculptured ice is mesmerizing.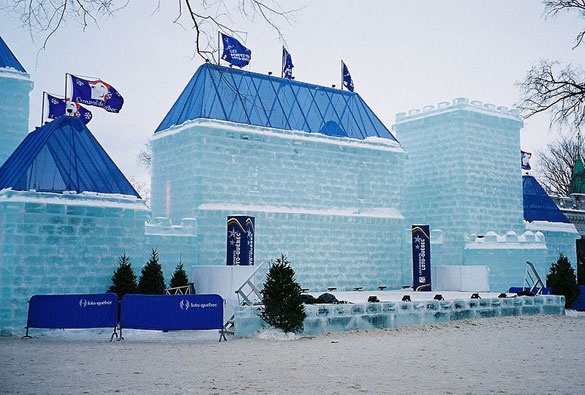 An ice castle during Quebec Winter Carnival 2009. Source wikipedia
What's the Attraction to Ice Sculptures?
Ice sculptures are captivating because they're a form of art that can be either abstract or realistic. They can also be small and elegant, for weddings and other special occasions, or larger than life for events such as concerts, grand openings, and movie premiers. The majestic ice-sculpted masterpieces found at travelling ice palaces and kingdoms are revered and in demand. For these presentations expert ice carvers spend hours carving out each piece with precision so they look exactly like the real thing. But these ice arts are so fascinating they have to be seen up close to believe them.
Ice carvers also reveal an entirely new colorful dimension with underground state of the art LED lights to illuminate the ice sculptures. To create and build a city made of ice sculptures takes hours to prepare and up to 2 million pounds of ice to create every extravagant detail.
Because of the ice slides and sculpted animals, people, buildings and places that are up to 40 feet high, the joyful laughter of children as they frolic in the winter wonderland, adds to the whimsical experience.
Harbin China – Ice Sculpture Festival
Every year Harbin China holds its Ice Sculpture and Snow World Festival. This year it will run from Dec 28 – Feb 28. It's the largest ice and snow art exhibition in the world. And the ice carvings are considered by some to be the world's best examples of ice art.
Other Ice Sculpture Festivals
Although Harbin's ice festival is the largest one in the world, other large snow festivals include Norway's Ski Festival, Japan's Sapporo Snow Festival, and Quebec City's Winter Carnival.
What to Wear to an Ice Sculpture Kingdom or Cities Made Entirely out of ice
If you're going to an ice sculpture festival this year, or to a city made entirely out of ice, make sure you dress warm. As you walk among the giant and magical ice sculptures the temperature will be as low as -5 centigrade.
Although the event planners provide hooded coats for viewing the ice sculptures, to fully enjoy this enchanted realm it doesn't hurt to wear layers. And don't forget to grab a hat and some gloves.
Some Interesting Facts about Ice Sculptures:
Ice sculpture presentations can weigh from 1 to 50,000+ pounds, depending on the design.
Dimensions range from 2.5" to 40 feet.
The clarity of an ice sculpture depends on how the ice is made – the more time the water circulates while it's freezing and the quality of the water used decides how clear the ice block will be.
Almost anything can be sculpted out of ice. Even most logos can be re-created in ice and integrated into many presentations.
Ice sculptures can be colored but it is not a good idea to use colored ice if it will be displayed in temperatures above freezing. When you color ice, it stops light from reflecting its surface so it loses its crystalline shining effect.
Colored lights such as red, blue, amber and green are commonly used to give a natural reflection through the ice, maintaining the shiny effect.
There are three types of iced used for sculpting. Canned ice, crystal clear ice blocks made in a controlled environment, and ice that's made naturally.
Without a controlled environment ice sculptures can melt in under 5 hours.
When you're inside a winter wonderland you feel as though it's immortal, but the sad reality is that it isn't. Similar to that feeling of dread while watching the movie Frosty the Snowman, we know in our heads that its lifetime is momentary. Just like childhood.
This article was written by Ryder James, who loves ice sculptures and the magical look about them.