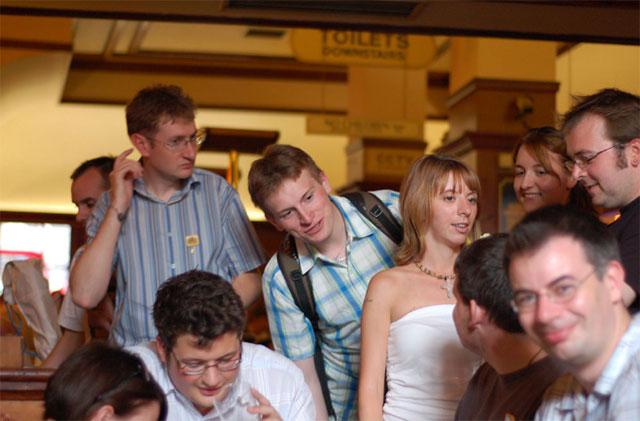 License: Creative Commons MooseAde
Human beings are social creatures, and that being the case, we are all at one point in life bound to yearn to meet new individuals, with different personalities, from the ones we are used to. For some people, the challenge of simply meeting and interacting with new people is a great one. For starters, the chances of meeting new people are generally influenced by several factors, such as location and choice of activities. The following suggestions will help boost these chances.
Join a social club
Social clubs are some of the best places to meet new people, as they consist of members who share common outlooks, opinions, ideologies, and hobbies. As such, they should make it relatively easier for you to meet new people in London. Luckily, London has a myriad of social clubs, and one will simply be spoilt of choice. It is important at this juncture, to try and find a social club that involves activities, or ideologies that you support or love. This will help in the process of blending in with the other members of the club.
Examples of social clubs available in London include, London IVC and Spice London which include numerous activities such as: chess, helicopter flights, indoor climbing, dancing, boat and sports among others.
The pub crawl
The pub crawl is one sure way of visiting new places, while giving you the chance of interacting with new people. In London, pub crawls generally entail spontaneous nights out, with participants generally arranging to meet at designated locations, and then deciding over drinks, on the different locations they should visit next.
The main advantage offered by London pub crawl, is that you get the chance of meeting and socializing with people from diverse backgrounds and cultures, while at the same time tantalizing your taste buds. This helps spice up the exotic feel of a place, and in this case, the City of London. Moreover, they provide a platform on which you can share and appreciate your different cultural backgrounds and experiences, with other pub crawlers, which will help make it, all the more interesting.
The Shoreditch bars are some of the coolest for pub crawling and partying in London. While there, you can have fun mingling with the revellers as you experience the unrelenting surge of Shoreditch's nightlife.
Do some volunteer work
Indulging in some volunteer work is one of the few amazing, but largely ignored ways of meeting new people. It helps you 'do good', while at the same time joining others in accomplishing common tasks. Common volunteer organizations such as Go London and London Heritage Farm include such activities as, getting rid of invasive weeds in the parks, and general cleanups.
If you are in London, wish to find new friends, and have a lot of time in your hands, it won't hurt to find some socially focused community groups to join. Volunteering will also give you the opportunity to mingle with some good natured, and generally selfless and caring individuals. You never know, you might find long-lasting friendship or even a lifelong companion from one of your charity escapades.
If you find volunteering interesting, London has numerous groups, always ready to welcome some new volunteers. These groups can easily be located through a simple web-search. As you can see, It is a great idea all round.
Conclusion
The above suggestions are just but a few aids to help you meet new people in London.
Ronald Hill is the author of Mind Your Travels and is a reknown article writer and reviewer from Texas, US.