If you're one of the thousands of Brits who are planning on heading across the Atlantic to spend your summer holiday in Florida, then theme parks and relaxing are probably top of the agenda. One of the other major attractions in Florida is the great shopping, and as well as being able to buy big brands at cheaper prices than at home, there is more choice too.
Theme Park Souvenirs

Universal Studios Florida is a theme park located in Orlando, Florida. Photo Credit efs green
Marketing operations at Disney, Universal Studios and other parks are slick, and designed to get you to spend as much as possible in the parks. Prices are not surprisingly high, with a t-shirt in a Disney shop setting you back around $25. If you want to make your dollars stretch just a little bit further, head to one of the large Walmart supermarkets close to the parks, and you'll find all the Disney souvenirs you can imagine at a fraction of the price. T-shirts cost around $8, and they also sell the Disney branded autograph books which are the ideal thing when your excited child meets Mickey or Cinderella.
High-End Retail

Photo Credit Tilemahos Efthimiadis
The massive shopping centre of Mall at Millennia is by far the best location in Orlando for premium shopping. The mall itself is stunning, with huge expanses of marble and bubbling fountains, and along with designer stores like Burberry, Cartier or Chanel you'll find quality high street retailers such as Hollister, Gap, Lacoste and Urban Outfitters. Prices are lower than they are in the UK branches of the same retailers and the customer service standards are far higher. Once you're done with your shopping, a stop for a slab of cake at the Cheesecake Factory just by the entrance is an absolute must.
Outlet Malls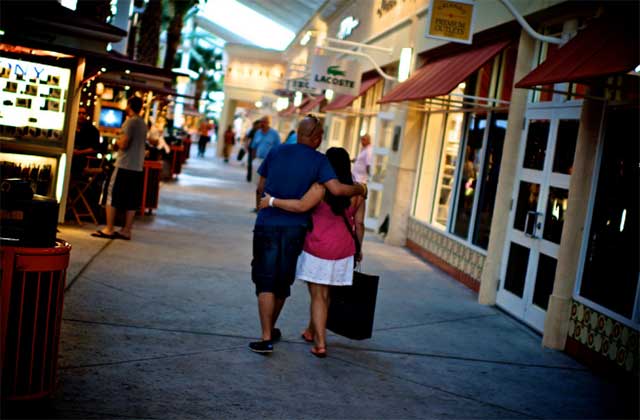 Photo Credit Omar Gurnah
There are some real bargains to be had at the outlet malls around Orlando. Premium Outlets, just off the I-4 is the biggest complex in the area, with stores like the Timberland Boots outlet, Levi's, Oakley and Disney character warehouse. As with UK outlet villages the stock on offer varies between current season stock at slightly reduced prices and past season stock which is more deeply discounted. Set aside an afternoon to do the outlets justice, as you'll have to do a lot of rummaging through clothing to find your perfect shirt, and as most stock is end of line or discontinued, you may struggle to find shoes at the Timberland boots outlet if your feet are one of the more common sizes.
Markets
If you prefer mooching around a market to the mall experience, try Flea World, a market with over 1,700 stalls. It's slightly further away from the parks in the Sanford area of Orlando, and is open every weekend. You'll find everything and anything on sale at the market, from watches to furniture to collectibles, and it can make for an interesting afternoon browsing. There's another smaller market in Kissimmee, where in addition to the normal goods on offer, local farmers come to sell their produce and ready to eat snacks and meals.
Morag Peers is a regular blogger and keen traveller who loves a bit of shopping in Florida