Cornwall has no shortage of pubs or cocktail bars. If you are looking for something near the beach and you want something a little extra special, you are probably looking for a shorter list. What follows are five pubs in Cornwall, UK chosen for their proximity to the beach, their unique personalities and their customer satisfaction ratings.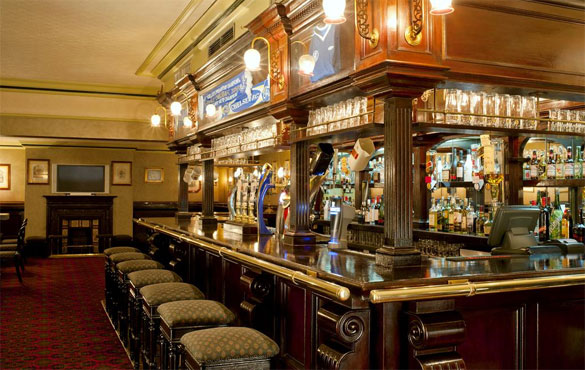 License: Image source by Sheraton Hotels and Resorts
The Watering Hole, Perranporth Beach
This list has to begin with The Watering Hole on Perranporth Beach. Their claim to fame is being "the UK's only bar on the beach!" This modern, rambling restaurant and bar was once merely a shack on the beach. In addition to locally brewed ales, fine wines and other alcoholic offerings, in the restaurant they offer a carvery throughout the winter and a barbecue all summer, with vegetarian options on the menu as well. From New Year's until Easter, they open only on weekends.
The Ship Inn, Porthleven
If you are looking for tradition, perhaps you want to try The Ship Inn on Mount Pleasant Rd, in Porthleven, Cornwall. Outside as well as in, this pub has an old world feel to it. They pride themselves on being a true Cornish pub in which children are welcome, but chips and pasties are not. In addition to pints, they have a full menu including vegetarian options. The food is cooked to order from fresh and mostly local ingredients. They are open for lunch and dinner seven days per week and for drinks from lunchtime till close.
The Jolly Sailor, Looe
The Jolly Sailor in Princes Square in West Looe, Cornwall is said to be one of the oldest pubs in the UK and it is reported to be haunted, which makes it all the more interesting for a visiting paranormal enthusiast or anyone who likes a good ghost story. Locals and visitors alike give the place high marks for atmosphere and service. A large beam from a 19th century French ship makes up the main part of the bar. At once time, ships used to dock right up next to the building, which is built into the rocks.
Devonport Inn, Kingsand
The main specialty at the Devonport Inn on the Cleave, Kingsand is their seafood and their hand baked Cornish pasties. They offer beer, wine and a lovely sea view of the Rame peninsula. Unlike many other pubs, which feature dark paneling and gloomy interiors, the Devonport sports light, airy rooms reminiscent of a cottage on the coast. They serve lunch, dinner and afternoon tea. In July and August, they also serve breakfast.
The Driftwood Spars on Trevaunance Road, St Agnes is located in a 17th century building. They are a four star bed and breakfast featuring live music and their own brewery. Food is made with local produce and is served for breakfast, lunch and dinner. They may be housed in a very old building, but they offer modern conveniences such as wireless internet, ironing facilities and in May, they host the Driftwood Beer Festival. They overlook a beautiful section of the Trevaunance or "Aggie" beach, accessible nearby.
Tom writes for a number of businesses in Cornwall including The Cottage Boutique a provider of high quality holiday cottages in St Ives, Cornwall. The Cottage Boutique have a list of last minute cottages in St Ives, Cornwall worth visiting if your looking for late bargain.