Ice Cream Parlors in Bangkok: Given the sultry climate that habitually clouds over Bangkok, eclipsing telltale signs of any other pre-existing seasons, ice cream naturally becomes a very popular dessert among the locals and visitors who go out and about. By the same token, this refreshment comes in many styles, economies, and flavors. But for those of you weary of go-to brands such as Dairy Queen and Swensen's, or the more chichi versions, like Baskin Robbins and Häagen-Dazs, then the following niche vendorsare those that ought to be considered the next time your hunger for this delicious and soothing refreshment.
Simple Day is a chill-out-themed café that serves up a selection of artisanal ice cream; the large pints of flavor behind the glass dome looks like something you would see in a Gelato boutique in Australia. Your nominated flavor is dolloped into a frozen-yogurt-like cup, and then decorated with choices of fruits, chocolates, macarons, or cookies; and all servings come with the house's signature shortbread with an imprinted smiley face. Simple Day cooks up a myriad of savors, from classic favorites like "Rocher", "Black Forest", and "Raspberry", to more contemporary fusions such as "Lemon Honey", "Salted Peanut", and "Strawberry Cheesecake". If your sweet tooth is particularly painful on the day of the visit, then know that "upgrades" are available: accompanying your large cup of creamery goodness can either be an ultra-rich brownie stick, or a stack of buttery hotcakes, which is catered rather cutely together on a paper box-tray. But for those of you that are lactose-intolerant, do not fret, for there is indeed an array of sorbets available to sample from, not to mention a "Soy Milk" option too.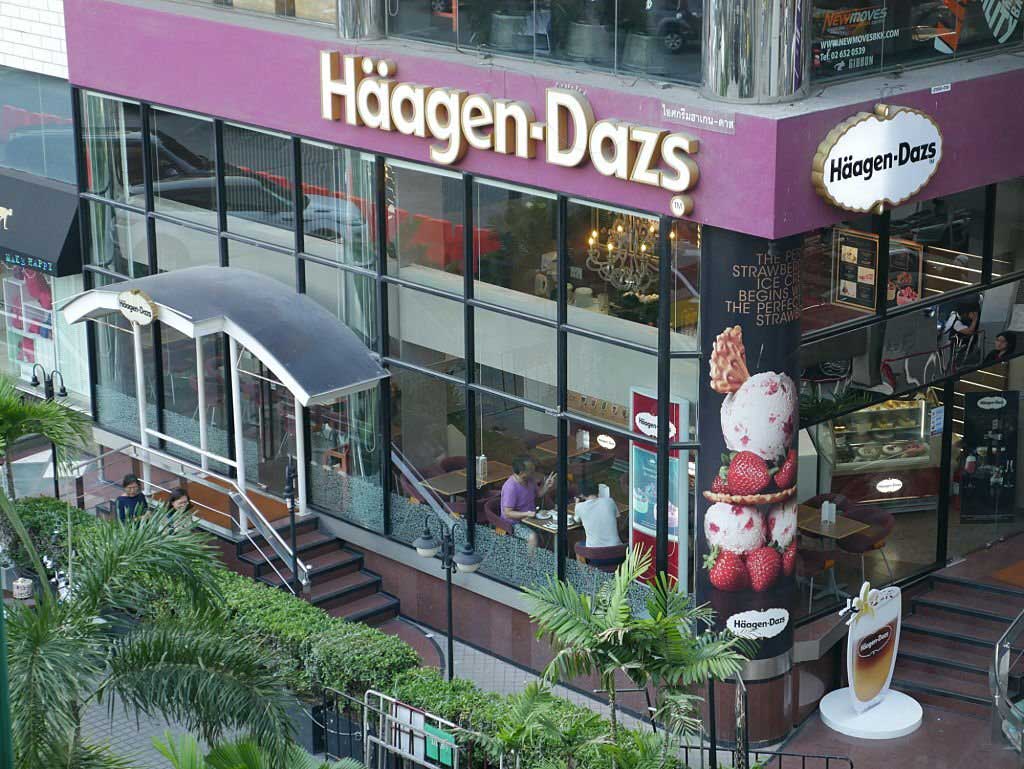 The next parlor on this comely list is the homey, Creamery Boutique Ice Creams. The store is bijou and the interior is made cozy with simple furniture. The selection while not extensive, does offer some of the most Willy Wonka flavors in Bangkok, think "Bacon & Eggs", "Toast", and "Sugus" (the famous fruit candy). For the less intrepid, more domesticated blends are up for grabs, such as "Apple Crumble", "Maple Crunch", and "Thai Tea". But if you had a more calorific treat in mind, then order the "Very Hot Pan-Fried Cookie" (a dome of your preferred ice cream dropped on an American-sized, lave-filled cookie served on a piping hot pan, to crown all, a mountainous glob of whipped cream tops it, and then all of this is drizzled with either caramel or chocolate sauce or both!). Prices are very reasonable considering the taste, quality, and background of its owners – one a pastry chef and the other a manager at the legendary Mandarin Oriental Hotel.
For those that love their cold desserts to be served with a theme, specifically in Tonkatsu fashion (the Japanese breaded, deep-fried pork cutlets with accompaniments), Icedea has you covered. The idea here is to transform that traditional dish into a dessert without sacrificing the façade. More meal than dessert, this fried ice cream comes in melon flavor, and next to it are crushed white-green wafer sticks which are meant to simulate shredded lettuce – the resemblance is quite convincing too! Other accouterments that come with the bento setup include a divided-tray housing fruit pieces, cashews, and whipped cream. Additionally, instead of soy sauce in the condiment boat, you can pour or dip your cutlets into chocolate sauce. Oh, and for the sake of authenticity, you're given a set of chopsticks to eat all of this with. On the other hand, this creative establishment also provides other savory imitations; think "Well-Done Steak" (a slab of beef in the form of a flat Brownie ice cream on top of a chocolatey cookie, and strategically drizzled with a dark syrup to make grilled-marks; on the other side of the plate lies caramelized banana strips sitting in the place of the fries, a foil wrapping of whipped cream that evokes mashed potatoes, and a savory-sweet parmesan toast completes the dish).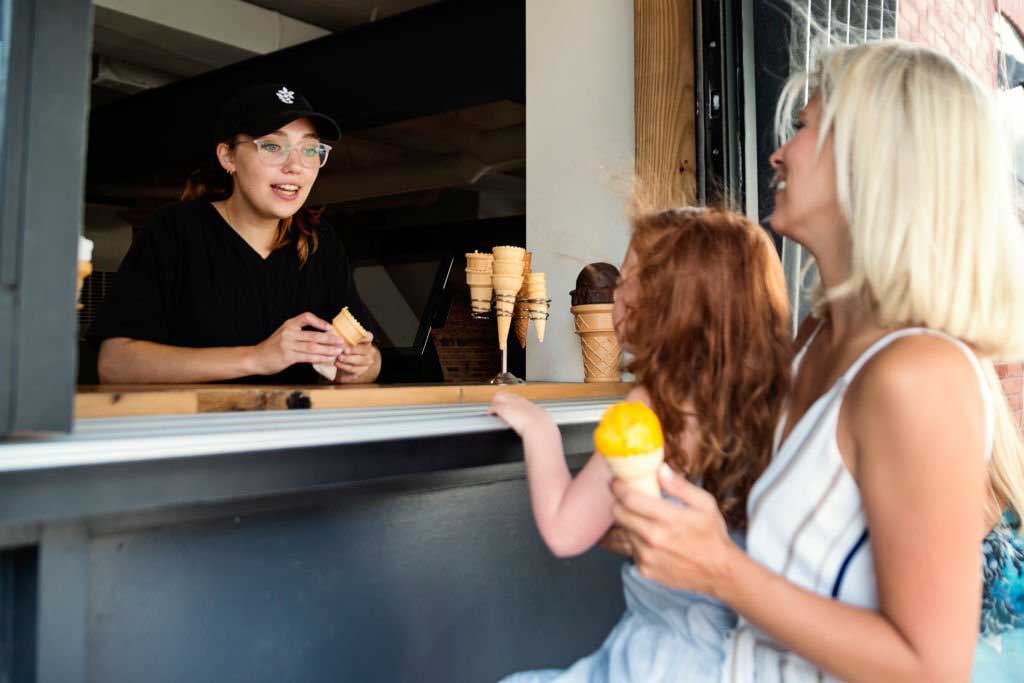 Note that the above "restaurant" is nestled in Bangkok Art and Cultural Center, which can be easily gotten to via a BTS skytrain. So if the menu at this cool restaurant takes your fancy, be sure to book into a hotel that is near a BTS station – such as Chateau de Bangkok – so that you're only a few scoops, I mean, a few steps away from satisfying your sugar pang and curiosity.
If you seek something different from the typical rich, dairy overload that is the mark of Western ice cream, then the lighter and icier Thai version might be of interest to you. Natthaporn Ice Cream is the grande dame in this field of Siamese frozen treats; practically a legendary institution, having been open for over half a century. Having its roots in the feudal "Coconut" flavor ice cream – yes, it's that old – Natthaporn has come a long way since then, with its modern offerings encompassing "Chocolate" to "Iced Tea" to "Coffee". For toppings, staples such as roasted peanuts, red beans, sugared potato, fresh corn, and boiled grains, are still available for those that cherish fond memories of this frozen delight.
Moving on from the bygone days, and heading towards the future, is Milk Solid; a sterile, laboratory-designed shop that implements liquid nitrogen to flash freeze your personal flavored-liquid pick into a texturized ice cream. Due to the rapidness of the freezing, only 30 seconds, this minimizes the formation of ice crystals, thus making the outcome creamier and perhaps more intense than the customary method. The number of solutions is small, but they make it work: from the essentials like "Madagascar Vanilla", "Chocolate 58%", "France Coffee" and "Green Tea & Mint"; to the downright zesty mixes such as"Pink Guava", and "Mango & Passion". To adorn the cold results, go nuts for the crushed wafers, hazelnuts, and cocoa powder, or merely opt for a pinch of Himalayan salt.
Whether your taste for ice cream lies in the unexpected (Simple Day), the imposter (Icedea), or the molecular gastronomy (Milk Solid), Bangkok's got your scoop. Like a shriveled plant that has been given a shower after a long period of drought, the next time you find yourself falling into a lethargic mood due to the suppressing hot and humid weather of Bangkok, then pop into one of the aforementioned kiosks, or these other unsung heroes, to get that wintry fix which will refresh you back to life.
Hope you love reading "Ice Cream Parlors in Bangkok You Should Try". Share your view in the comment section below.