From visiting the valley's to walking the white sandy beaches, this slice of heaven has it all. Treat yourself and visit Portugal.
The weather varies from region to region; however, the best time of year to plan your holiday would be in the months of April to October. Once you have decided on the dates of your travels, it is time to focus on your holiday activities.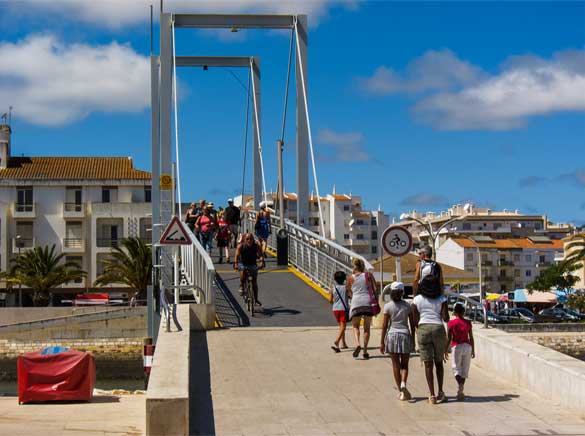 Photo Credit: Martin Robson
Here are five 'must-see' cities in Portugal:
Number One – Lisbon
The capital of Portugal should be your first stop in Portugal. The city has the perfect blend of culture, history and nightlife to keep you busy throughout the day and evening. Here are three things to do in Lisbon:
One – Belem: This historic center of Lisbon includes the Torre de Belem (Tower of Belem), Coach Museum and the Monastery of Jeronimos.
Two – Cristo Rei: The only country in the world with a statue of Christ, with its sister statue located in Rio de Janeiro.
Three – Cascais: An upscale beach area in the capital. This area is home to some of the most famous nightclubs, casinos and restaurants in Portugal, all with a view of the ocean, making it the ideal location for high rollers and individuals simply looking to have a good time.
Number Two – Porto
The land of port wine, Port is Portugal's equivalent to the French Riviera. The Douro River runs through Porto with houses and wineries located on either side of the river. This is without a doubt Portugal's most romantic city and a great honeymoon location. No trip to this beautiful city is complete without a wine tasting tour along the banks of Douro.
Number Three – Figueira da Foz
Soft sands and a surfer's paradise, this quiet coastline is a sharp contract from rest of Portugal's beaches. While there, indulge in to some gelato at the famous Emanha (home to the best ice-cream in Portugal).
Number Four – Coimbra
Coimbra is the cultural center of Portugal; the former capital is now home to famous University of Coimbra. This city is ideal for those looking to get a sneak peek into the cultural heritage of Portugal. This is a city to park your car and walk. Visit the local food stores, art galleries, bookstores or if that is not your scene, take a walk up along the famous Mondego River (the largest of the three great rivers of Portugal).
Number Five – Sintra
Sintra – a UNESCO World Heritage site for its Romantic architecture – is home to some of the most historic buildings in the area. Castelo dos Mouros (the Moorish Castle) and Palacio Nacional de Pena (National Palace of Pena), both settled in the mountains of Sintra are popular tourist attractions. When visiting the city, take this opportunity to ride the vintage 1904 J.G. Brill 9 open tram through the city. It operates during high summer (July to September) on Fridays, Saturdays and Sundays.
Ensure that you visit these five cities during your holiday. They each provide you with a unique experience that will leave you wanting more of this beautiful country. Remember to brush up on your Portuguese; it might come in handy when ordering an ice-cream in Figueira da Foz or asking for a refill on the banks of Douro.
I am Greg Jones, a food lover, sports nut and travel enthusiast. I recently visited Portugal for the second time and after learning the language – via a Portuguese translation – I was able to pick up on the little things I missed out on the first time around.