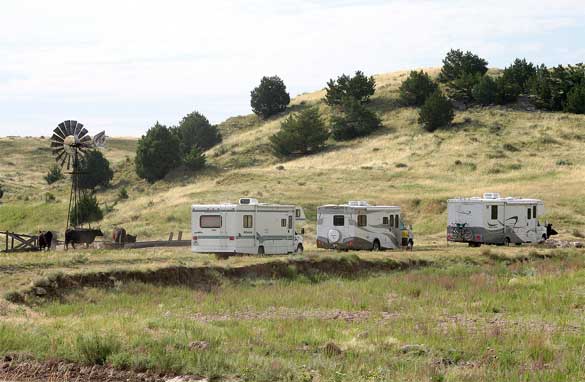 Photo Credit: Vicky Frank
The history of the RV in American culture is a very rich one. Known as a recreational vehicle, there are many types of models that are usually pulled behind a vehicle. These little homes on wheels may feature every possible amenity that a home would have or could be just a simple shell that will offer protection from the elements. Either way, the function of mobile homes for traveling remains the same and this is a very popular way for many people to get out and see the country while they make their leisurely way somewhere else.
As technological advances have improved and as more lightweight materials are used on recreational vehicles, the costs are more affordable and these RV's are easier than ever to buy and use. Those interested in RV travel may be thinking about a short vacation or may be looking at spending the next year on the road. Either way, this is a rare opportunity to travel at a slower pace and take charge of your time, travels and even expenses.
Of course, before you get started with your RV adventure there are a couple of things to keep in mind. If you are the type of person who likes to get as far away from civilization as possible, you may find yourself just a little bit disappointed with recreational vehicles. These are generally a better choice for people who like staying in RV parks rather than people who like to get a deep into the middle of nowhere so they can experience nature one-on-one. While a recreational vehicle is definitely a different experience than a hotel, there are still those people who like to rough it in a tent.
How RV Travel Saves Money
Since you will be taking your home with you when you travel in an RV, you will be cutting down on your expenses considerably. You will not have to pay a room rental fee for hotels and will have the ability to stop and rest when you want to and not when you stumble across the right hotel. In addition, this is a great way to travel with kids, because you will have more room, will not have as many extra expenses like hotel rooms and you can have fun stopping at many different places for sightseeing while on your journey.
Getting The Right Gear
Whether you are a new kid to the RV world or a seasoned pro, you want to make sure that your RV is equipped with all of the amenities you will need from cooking equipment to a toilet. Your little RV should be a self-contained unit and you should have every feature in full working order and may even want spare parts to prevent problems while on the road.
A good recreational vehicle store will offer a variety of items specifically for use in these types of vehicles. You will find many names and models that can be used for different brands of RV's, and will have access to professionally made equipment that is meant to be used on the road. Find a merchant that specializes in this type of product and you will get better quality items so that you can be on the road in no time and with more money in your pocket!