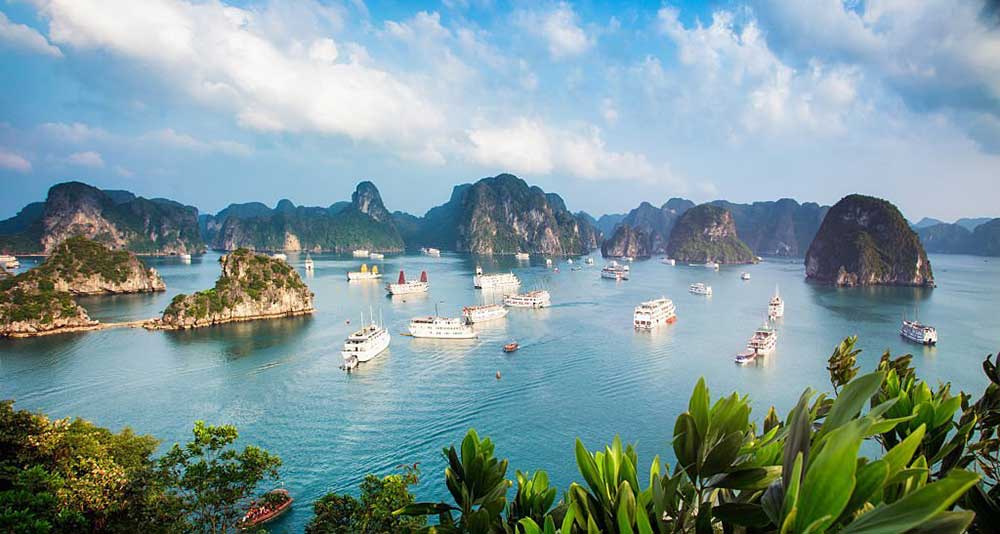 Exquisiteness of Vietnam: Fed up of monotony and want something different these holidays? Then plan a trip to Vietnam and unleash the splendor and exquisiteness of this country. Vietnam is full of magnificent natural beauty and offers the tourists from the green rice fields in the north to the mesmerizing hubbub of the Mekong Delta in the South. Its natural beauty and splendor along with the religious monuments, local markets, cuisine, and most importantly beaches have the ability to captivate the eye of the tourists in a pleasing way. Don't waste your time in pondering just get on your heels, grab your camera to preserve its beauty, take a look below for the top tourists attractions in Vietnam and plan your visit without wasting a second I can assure you that you WON'T regret it.
Ha Long Bay: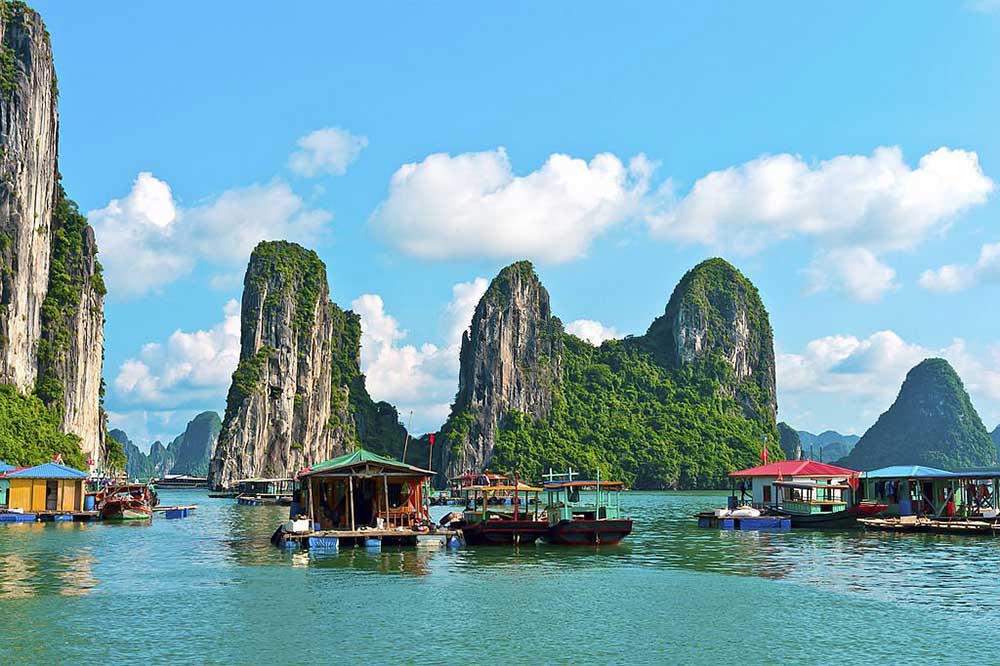 This wonder of the world literally means "Bay of Descending Dragons" and it is situated in north of Vietnam. The top attractions for this stunning site are: thousands of islands each crowned with forest flora, creating a huge seascape of limestone towering cliffs and enormous caves. You can swim, explore, visit and capture these wonderful natural sites and cherish the grandeur of the scenic beauty of Vietnam.
Thien Mu Pagoda (Hue) and Perfume River: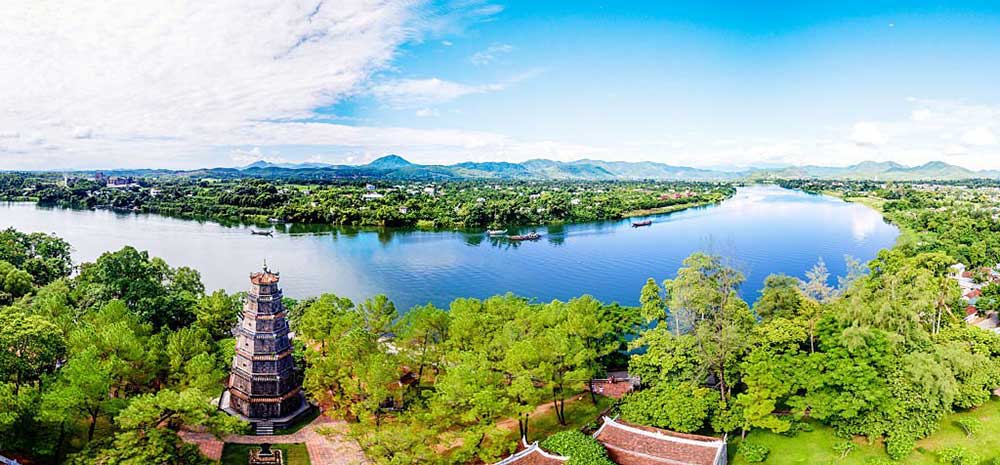 Perfume River spread the scent of flowers when autumn fell into the river and offers the travellers fabulous site scenery along with sweet aroma of flowers. On the banks of the perfume river tourists have another attraction which is Thien Mu Pagoda considered as the unofficial sign of the old Nguyen Dynasty and traditionally one of Vietnams cultural, religious, and educational centers. You can capture the classiness of many interesting sites like Nine Holly Cannons, the Imperial Enclosure, the Palace of Supreme Harmony, and the Halls of Mandarins. This city was brutally demolished after the devastation of the war but now its beauty is completely restored.
The Sand Dunes of Mui Ne: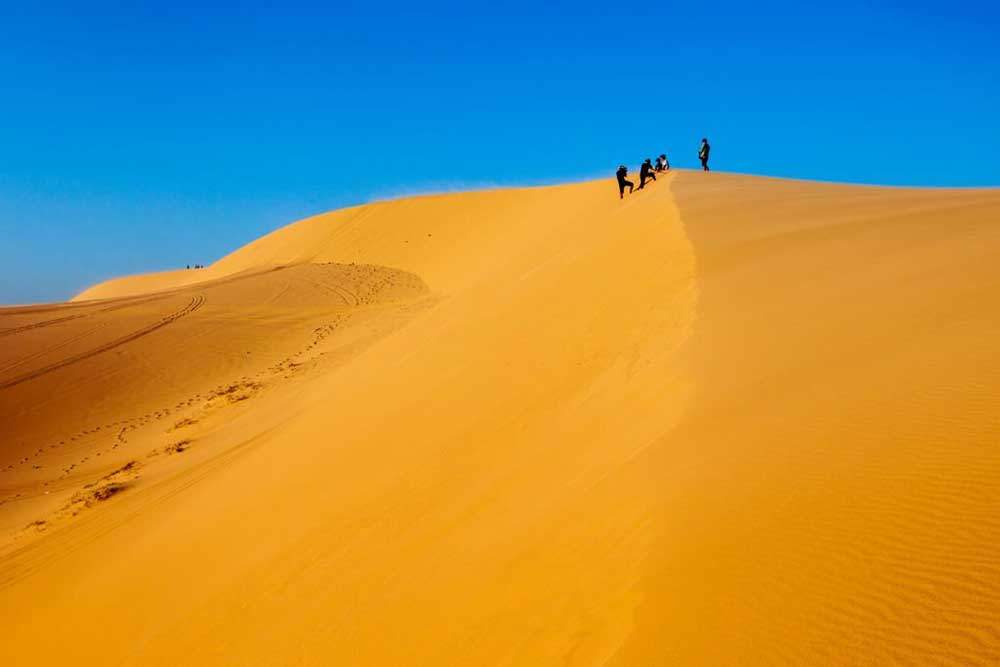 Well-known for its strong sea breezes offers the visitors the activities like kite and windsurfing. No visit to Mui Ne is complete without a stopover at Saharan-like sand dunes located near Mui Ne. There are two beautiful deserts "Red Sand Dunes" and "White Sand Dunes". The red sand dunes are famous for their unique red color and it is a popular place for photography while white sand dunes are vast and known as BauTrang or white lake offers the visitors the cool shade of pine trees, magnificent view along with food and drinks. Enjoy the sunrise, sand sliding on the sand and beautiful landscape with lake and pine trees around it.
PhuQuoc:
Biggest island of Vietnam PhuQuoc is situated in front of the Cambodian coast it offers the visitors pristine tropical forest, undamaged coral reefs and stunning beaches specially Bai Dai (Long beach), is one of the most beautiful beaches in the world.
Dalat:
This hill station in the central highlands offers the visitors attractive scenic beauty of mountain plateau surrounded by small villages, amazing waterfalls, and variety of vegetable oil, fruits and colorful fresh cut flowers to color the streets and markets.
There are numerous other places to visit in Vietnam like Saigon, Nhatrang, Danang, Sa Pa Terraces, Mekong Delta, Hoi An Ancient Town, Complex of Hue Monuments, War Remnants Museum, PhonNha-Ke Bang national park etc.
Enjoy your vacation in Vietnam and capture the grandeur of scenic beauty in your camera and then transform those digital images into large Photo prints to immortalize those memories. Make your personal image gallery of your vacations or gift it to your family and friends as a souvenir.
About The Author:
James Anderson is an avid writer. He gives expert advice regarding exploring and capturing Top tourist attractions in Vietnam. Furthermore, he also loves to write about collage canvas prints. Hope you love reading "Discover and preserve the Exquisiteness of Vietnam". Share your view in the comment section below.