If you're considering visiting the Algarve this year, whether for a family holiday or a romantic break for two, then why not consider staying in the Quinto do Lago resort on the Southern tip of Portugal.  Surrounded by almost 800 hectares of forest and lake and bordering on the Ria Formosa Natural Park, the area is one of outstanding natural beauty and makes a great choice for those looking to get away from it all this year.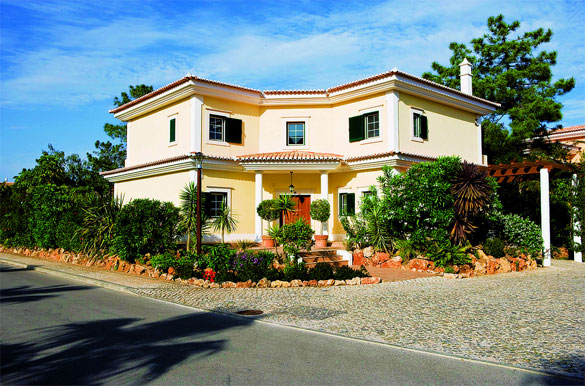 Photo Credit: Pure Hotels
Monte da Quinta
For a luxurious holiday to celebrate a special occasion, or just to treat yourselves, stay at the Monte da Quinta Suites, where you can experience traditional Portuguese culture mixed with sophisticated, contemporary style.  The resort boasts an expansive outdoor pool where you can work on your tan and relax with your favourite novel as you watch the children have the time of their lives!  During peak season, take a free shuttle bus to the nearby Buganvila Plaza, a mecca for fashion addicts, with its plethora of shops selling everything from jewellery to designer goods, or why not dine in beautiful surroundings at one of the many restaurants offering mouth-watering international cuisine.  The golden sands of Quinto do Lago beach are just a short stroll away; take the footbridge that winds over the Ria Formosa Lagoons and enjoy the spectacularly vibrant nightlife of the area in one of the many bars and clubs.
The Lap of Luxury
Monte da Quinta Suites offer the ultimate in luxurious surroundings with all the amenities you will need for a truly amazing holiday. Each suite is air-conditioned for your comfort and the large windows offer beautiful views of the pool or garden.  With wireless internet and a TV and DVD player, there is something to keep the children amused whilst you enjoy a leisurely lie-in and preparing breakfast in the fully fitted kitchen is a breeze thanks to the electric hob and microwave oven and fridge.  There's even a dishwasher so you can head straight to the beach rather than wasting time washing dirty dishes after breakfast!  Don't forget to leave your valuables in your suite safe whilst soaking up the sun at the pool during the day.
Entertaining Everyone
You will never be bored whilst staying at the Monte Da Quinta Suites, as there is something for everyone to enjoy!  From the fully equipped gym featuring all the latest equipment and a Personal Trainer to motivate you, to some of the best golf courses in Europe and even the Magnolia Spa, offering a range of treatments to relax and rejuvenate you, you will find activities for the whole family to enjoy.
The Magnolia Spa offers a wide range of treatments designed to pamper you and leave you feeling relaxed on your luxury holiday.  With a Jacuzzi, two Chromo therapy treatment rooms , Turkish Baths and Vichy Showers available, the spa is a popular destination for mums (and dads) looking to unwind and refresh themselves; just don't forget to book your treatments in advance!
Whilst you're relaxing in the spa, send the children to Kid's Club, where they will spend the day painting, playing and making new friends under the supervision of our qualified staff.  You can book a session for children aged 0-3 or 3-12, from just a few hours to a full day, allowing you some time off to really relax and soak up the culture of Portugal.
Sports activities in the resort include golfing and tennis, with the professional tennis centre just a few minutes' walk away and some of the best golf courses in Europe right on your doorstep.  At the end of a long day, relax and unwind with a cocktail by the pool and relish in the fact that you have made a great choice for your holiday in Portugal.
Steven Capocci is a freelance writer who suggests that when looking to book your dream holiday this year, it is worth considering the Monte da Quinta Suites as they offer a relaxing an memorable trip to one of the most beautiful destinations in Portugal.