What do you look for when choosing the best hotel in Bangkok to stay during your vacation? Certainly you would consider the distance shared between your hotel and places such as business and shopping districts, for one. In Bangkok, there's a handful of awesome to downright amazing hotels in the city to choose from. Ranging from hostels to 6-star giants, your selection is finite. The article will be covering the best food and beverage hotels Bangkok has to offer to quench your thirst and satisfy your hunger. This list should help you in deciding which hotel is best for you, as well as your planned budget.
Vie Hotel Bangkok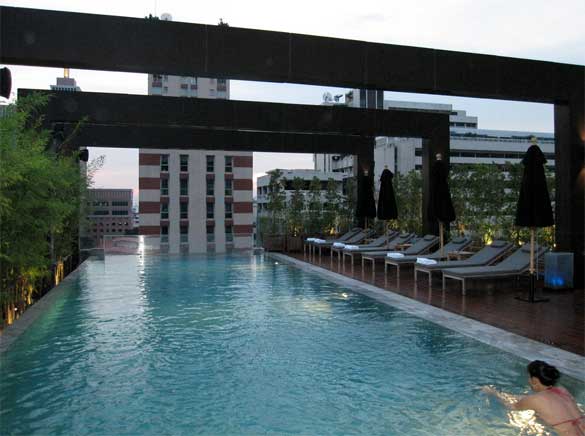 Photo Credit: Jordy Chen
This luxury boutique hotel has snagged a handful of awards due to its chic design, spacious rooms and proximity to the Ratchathewi BTS station. Being a 5 star hotel, the Vie Hotel Bangkok has superb facilities, services and a notable F&B for everybody to enjoy. The hotel has an amazing sushi bar called the YTSB – Yellow Tail Sushi Bar which is the best sushi bar in Bangkok and shouldn't be missed. Honoring the best in the Japanese culinary art and using the freshest ingredients available, each sushi is crafted to perfection to uphold the age-old Japanese tradition of sushi making. Colorful flavors and relaxing in a balanced ambiance, hands down, YTSB Sushi Bar is one of the best if not, the best sushi bar in Bangkok to date.
Four Seasons Bangkok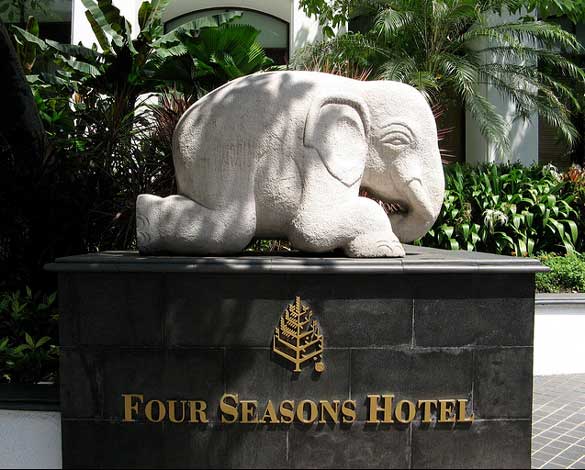 Photo Credit: Yotsuba
The Four Seasons hotel is best known for their classical interior, star quality services, serene ambiance and amazing cuisine. One of the most standout food and beverage restaurants by the hotel is called the Spice Market. Voted the "Most Delicious Thai Restaurant in Bangkok", the Spice Market does not disappoint with its rich range of dishes of chicken, pork, beef and fish available. Each dish is carefully crafted to express exotic and authentic Thai flavors for all to enjoy as well as serving up fresh seasonal fruits and delicious desserts.
The Spice Market is open for lunch, dinner and Sunday brunch.
Pullman Bangkok Hotel G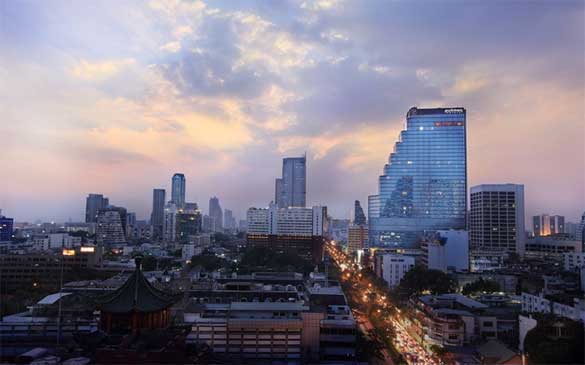 Photo Credit: wackybecky3
The stylish and chic hotel has a wide assortment of bars and restaurants to choose from whether you're simply casually dining with friends or meeting up with clients, the Pullman Bangkok bars and restaurants are your best bets for a pleasant dining experience. The Scarlet Wine Bar & Restaurant is Pullman's most famous restaurant due to its location and friendly ambiance. Located on the 37th floor of the hotel, the restaurant presents itself with world-class cuisine, boasting exceptional Thai food rich in flavor and taste. The dishes presented on the table range from tapas, daily specials, imported cold cuts, fine wine selection and not to mention the wide selection of rich cheese.
Okura Bangkok

Photo Credit: Jordy Chen
Whether it's about sass and style, the Elements restaurant at Okura Bangkok is not one to be missed. Elements bring forth an exceptional dining experience without the traditional mannerisms of fine dining. The food presented at Elements is refined to bring out the richest tastes, whether it's Thai or international cuisine, Elements has it covered down its rich selection of fresh ingredients. Of course, to complement each dish is the wide selection of cold, rich wine available as well.