Until recently, travelers had very little choice in their type of lodging when they visited Canada. They could opt for an expensive luxury hotel or a room in an inexpensive economy motel lodging, but for the most part, the same amenities were offered: a room with a clean bed, towels, whitewashed walls, and a television set. Being able to truly relax, feel at ease or entertain guests was not possible. This problem, however, has now been resolved for extended-stay travelers with the added option of renting furnished apartments. Whether you are traveling on vacation or for business, it is impotant to choose the option that provides you wtih the most comfort and convenience: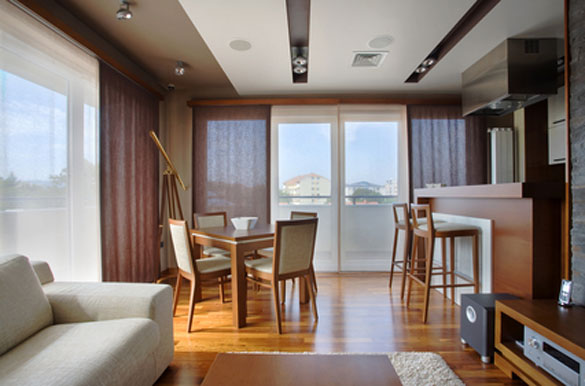 License: Royalty Free or iStock source: Deposit Photos
The Hotel
• Daily maid service: Quality hotels provide full maid service on a daily basis. Bedding and towels that have been used are exchanged for fresh ones every afternoon, and amenities such as complimentary coffee, clean water glasses, and toilet paper are replaced.
• Restaurant: Quality hotels usually have at least one restaurant in addition to the bar or lounge. The restaurants can provide room service for guests who do not want to venture out, and are conveniently located in the building for travelers who want to have a "dining out" experience without braving the elements. Most rates for hotel stays also include a daily breakfast cost.
• 24-hour on-site staff: Superior hotels have helpful and efficient staff on-call to immediately attend to guests' every need at the touch of a phone dial. Replacement of amenities, information about the surrounding area, assistance with luggage, room service, and emergency maid service are all available with just a call to the front desk.
• Exercise facilities, business-related facilities and spa services: Many hotels provide quality workout facilities, rooms with available computers, printers, and fax machines, and sometimes even a place for guests to relax and be pampered. All of these amenities are available right in the main building, so hotel guests can decide to use them at a moment's notice and not have to "get ready to go" or seek out a location in the city.
The Furnished Apartment
• Cost effectiveness: Because rental companies that provide short-term furnished apartments in Canada are not required to pay high commercial usage taxes or all of the on-site staff's salaries and benefits, they have much lower overhead expenses to pass on to the clients. This savings can really add up, especially for longer-term stays.
• Space: A furnished apartment is usually much more spacious than even a large hotel room. Furnished apartment rentals in most Canadian cities offer between 600-700 square feet of living space; even very nice hotel rooms only boast 300-400 square feet. Because of the extra space and furnishings, your rental can be a great place to entertain guests.
• Privacy: When you rent your own furnished space, you enjoy privacy similar to that at home. While you do not see dozens of staff or guests constantly in the common areas, elevators, and hallways, you will, with most furnished apartment rental companies, have some customer service options via phone or personally after a short wait. Many rental companies that provide short-term furnished rentals consolidate their staff at an off-site location.
• Convenience: Most furnished apartments come complete with kitchens, laundry machines, and other appliances in the unit, and internet service is included in the rental price. Not having to use room service or an often-overpriced hotel restaurant for your meals is both cost-effective and convenient; when you cook at home you can get exactly what you want to eat at a fraction of the cost, and don't have to add in a gratuity. Inflated pay-per-hour internet service in hotel rooms can be prohibitively expensive, so business people especially will appreciate the savings of simply having the service included in the rental.
The differences between furnished apartments and hotels are becoming less clear as furnished-apartment rental companies become savvier in providing the same amenities and services as hotels.  Clear evidence of this trend is the proliferation of hotel condominium suites and boutique hotels. It is best for both business and vacation travelers to look carefully into the two options before committing to one of them.
Arnie Heath works as a cruise ship and bus tour reviewer and is often found documenting his travels. When he's in Toronto, instead of staying at a hotel, he has found that Toronto Furnished Apartments has provided him with the luxuries and comfort that he wants when he has some downtime. Their optimal locations still allow him to easily access Toronto's tourist attractions, and he recommends them for anyone who also travels quite frequently for their job.