On the 6th of February 2013, the Royal Navy fired a 21 gun salute in celebration of Queen Elizabeth II's 61st year at the head of the monarchy. The salute in Portsmouth has only been held twice since the Royal Navy acquired the guns at Fort Blockhouse, which is a military establishment at the entrance of Portsmouth Harbour. However, as Britain's oldest military establishment that is still in use today, it seems fitting that the fort at Portsmouth should celebrate the second longest reigning monarch in history.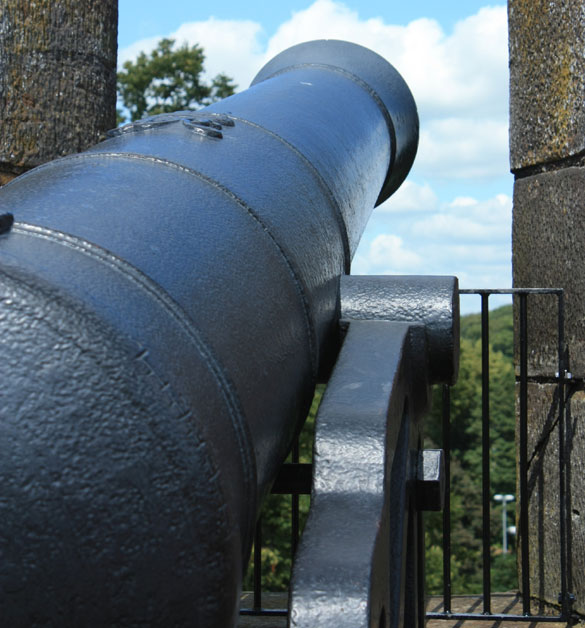 License: Royalty Free or iStock
Traditionally, gun salutes were used so that foreign ships could fire off their guns in order to discharge them and indicate that their visit would be a peaceful one. As the years progressed, gun salutes have taken on a more ceremonial role and rounds are now fired to mark special occasions. In Britain, gun salutes are officially called Royal Salutes and are usually fired for significant royal occasions, including birthdays, ascension days, royal births and coronation days. The Royal Salute at Portsmouth in February was fired to celebrate the Queen's 61st year as the reigning monarch. Queen Elizabeth first took the throne after her father, King George VI, died peacefully on 6th of February 1952. Although we recognise the coronation date as 2nd June 1952, 6th of February is the date that Queen Elizabeth officially ascended the throne and took on the monarchical responsibilities. For this reason, Royal Salutes are fired throughout the country and why the Royal Navy stationed at Portsmouth felt that it should carry on the tradition of gun salutes in this area.
With an unrivaled view of Portsmouth Harbour, including the iconic Spinnaker Tower, the Fort Blockhouse guns were positioned at the entrance of the marina. The Naval Base at Portsmouth have actually been firing gun salutes since it acquired the guns in 1957, however they have begun to fire them annually on the 6th of February since the Queen's Diamond Jubilee last year. The ships in the Harbour were also dressed for celebration as they had colourful flags hanging along their sides. At midday, special gunnery experts took to the platform to fire out the Royal Salute to mark the anniversary and the guns fired 21 rounds in total. This gunfire could be heard throughout the Portsmouth, Gosport and the surrounding area. It is expected that those at the Naval Base will continue to fire Royal Salutes to mark special occasions and the next gun salute is likely to be the Queen's real birthday on 21st of April.
Author – Adam has been writing articles for a number of years within different industries and has had great success