Dubai is present time top ranking tourist place. It has many skyscrapers that are best in the entire world. Dubai Government and Sheikhs are continuously trying to make it best tourist destination. This place is rich in all types of adventurous activities. Dubai itself is the second biggest emirate of United Arab Emirates. World's remarkable tallest buildings, resorts and hotels can be seen here.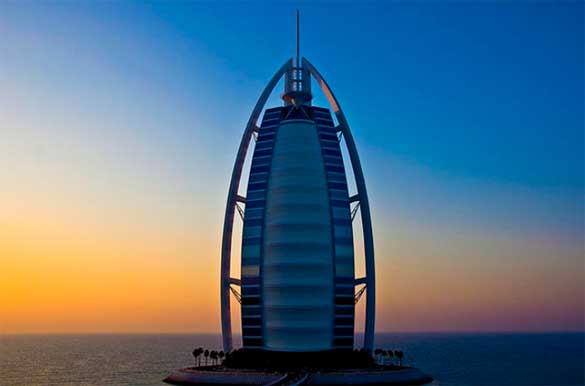 Photo by George Paris
Burj Al Arab is a hi-class luxury hotel situated just in mid of Dubai. This hotel is world's best and first seven star rating hotel of its kind, yet its star rating is disputed. There are many interesting facts available about this hotel, knowing about them just give you wow feel. The shape of this building is quite similar to a ship. In Arabic this is also known as Tower of the Arabs.
Here presenting some top 10 interesting facts about Burl Al Arab that can make you easily feel astonishing.
This ship shaped building is the fourth tallest building of the world and situated on the height of 321m or 1053 ft. Totally standing on the artificial island of 280 m from famous Jumeirah beach and well connected with land with the help of a private curving bridge.
Despite its size, it has more than 28 double storey floors and 202 bedroom suites. It can easily accommodate many people with full- fledged luxury rooms. You will definitely feel that you are inside the paradise.
The smallest bedroom suite of this hotel occupy approx 169 square meter land and again its largest bed room suite cover 780 square meter which is approx 8,396 square feet.
Burj Al Arab is very costly hotel and world class corporate employees prefer this construction for staying when they come to visit this place. The starting cost of its suite is $1000 per night and as the comfort increases, rate also go high to higher up to $ 28,000 per night.
To reclaim the land for constructing Burj Al Arab, it had taken three years and same approx three years for constructing the building.
The entire construction of Burj Al Arab had contained 70,000 cubic meters of concrete and total 9000 tons of steel.
The cost of constructing this building is nearly $ 650 million which is a huge amount and this is the reason of its comfort and luxury.
Burj Al Arab has 79 feet or 24 meter long and wide helipad which is above 210 meter from the ground.
This is world's tallest structure well accompanied with membrane façade which actually surpass 1000ft in height.
Each room of this hotel is well decorated in Arabian style with same hanging and decorative accessories.
Overview:
Dubai based Burj Al Arab and burj khalifa tour is a remarkable hotel. You must save your money to visit or to spend on night in this hotel. Despite the fact that hotel is very expensive people prefer this for staying when they come to Dubai for enjoying their vacation. This is the pride of Dubai, those who cannot afford it, come here to see the construction and comfort of this hotel.